The UN Security Council is being asked to take steps to enforce international laws that are supposed to protect medical workers and facilities in conflict zones from violence and attack. Barrel bombs dropped on a hospital in the Syrian city of Aleppo on April 27, 2016 killed more than 50 people including staff, patients and children. This was the latest in a string of attacks on medical facilities in the last six months in Syria, Afghanistan, Sudan and Yemen.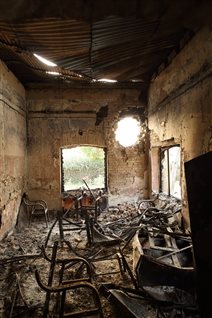 Geneva Conventions 'not matters of convenience'
"We are seeing that parties are … transgressing the rules of international humanitarian law and doing so without accountability and with seeming impunity," says Stephen Cornish, executive director of Doctors Without Borders/ Médecins Sans Frontières Canada. "Really, it's time now that we need to put our foot down and to ensure that we can humanize conflict to the degree that nations have signed up to in the wake of the world wars."
The Geneva Conventions cannot be treated as matters of convenience, says Cornish. A UN resolution being considered today demands that all parties in a conflict reaffirm and adhere to the conventions and protect doctors, nurses, patients and the facilities they use. But beyond that, Cornish says the Security Council needs to put in place measures to enforce the rules, to investigate transgressions and to rebuild respect for humanitarian law.
Listen
'It's our own humanity that's at stake'
"If not, we truly fear that these types of attacks will become normalized. We began with horror when we saw these attacks, then outrage, but now we have to move beyond that to take true action and really right the course of history here if we are to save what is the ability of doctors to treat patients, patients to be able to seek care without fear.
"And really it's our own humanity that's at stake here."