Gord Downie, the lead singer and lyricist of the Tragically Hip rock band, underwent surgery and six weeks of chemotherapy and radiation after he was diagnosed several months ago with an aggressive and incurable form of brain cancer, his Toronto doctor said today.
Dr. James Perry, a neuro-oncologist, told a news conference at Toronto's Sunnybrook Hospital on Tuesday that Downie has glioblastoma, the most common and most aggressive of the tumours that originate in the brain.
The press conference came after the well-known Canadian rock band stunned their fans this morning with the announcement that Downie, 52, has terminal brain cancer.
"It's my difficult duty today to tell you Gord Downie's tumour is incurable," Perry said.
Downie underwent surgery this winter, followed by the radiation and chemotherapy, which he finished about a month ago, the neuro-oncologist said.
On the brighter side, Downie's tumour contains a certain protein that "confers longer survival," Perry said.
"Fortunately for Gord, he has a type of glioblastoma that is more amenable to treatment than most," Perry said.
'The right thing to do'
Glioblastoma is one of the most common causes of cancer death in Canadians between 40 and 60 years old.
But in a statement posted on the band's website the Tragically Hip said Downie still plans to join the group for a summer tour to promote their latest album.
"This feels like the right thing to do now, for Gord, and for all of us," said the statement. "What we in The Hip receive, each time we play together, is a connection; with each other; with music and it's magic; and during the shows, a special connection with all of you, our incredible fans."
The Tragically Hip, known simply as "The Hip" to their fans, is "going to dig deep, and try to make this our best tour yet," said the statement.
The band is due to release its new album called "Man Machine Poem" on June 17. It will be their 14th studio album.
Canadian music icons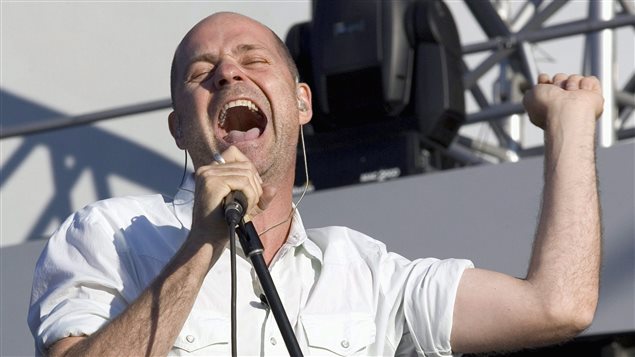 The band formed in 1984 in Kingston, Ontario, while the members were still in high school.
Downie and The Hip — now also including Gord Sinclair, Johnny Fay, Rob Baker and Paul Langlois — swiftly ascended from playing cover songs for Queen's University students, following a gig at Toronto's Horseshoe Tavern three years later.
That led to a record deal with MCA and the release of the self-titled 1987 EP.
Downie's evocative lyrics didn't break out into the mainstream, however, until Up to Here, the group's first full-length album, was released in August 1989.
They have since released more than a dozen studio and live albums, nine of which have reached No. 1 in Canada.
Gord Downie is a true original who has been writing Canada's soundtrack for more than 30 years. #Courage

— Justin Trudeau (@JustinTrudeau) May 24, 2016
They have also won 14 Juno Awards, the biggest music awards in Canada, a Governor General's Performing Arts Award, and the city of Kingston has named a portion of a downtown street after them.
The Hip were inducted into the Canadian Music Hall of Fame in 2005.
'I love this country'
Downie's evocative lyrics have revealed his love of all things Canadian – its history, geography and, of course, hockey.
"You write about what you know," he told CBC's Wendy Mesley in 2012. "And I love this country. I love my idea of this country.
Downie has released four albums of his own since 2001, and appeared in the film, 'Men With Brooms' as well as an episode of Trailer Park Boys.
Downie, a married father of four, told The Canadian Press in 2010 that his family is a huge influence on his music.
"They inspire everything," he said. "Everything I do, everything I eat, everything I don't eat."
He added: "You settle into the fact that you let these kids affect you in their great and positive ways, and that can only affect your work in great and positive ways."
With files from CBC News and The Canadian Press