Owners of the Hummingbird Chocolate Maker were stunned, surprised and happy to learn that their chocolate bars won first prize and five more of the London Academy of Chocolate awards. What makes their chocolate so special?
'A new craft chocolate movement'
"We're kind of a new craft chocolate movement," says co-owner Erica Gilmore. "We're using more old-fashioned methods that take a bit more time. To make our chocolate we're sourcing the best quality cacao beans that we can find and we're importing them from a variety of countries.
"Then we make our own chocolate from scratch starting with the cocoa beans and because we do that we're able to…tease out all of the wonderful natural flavours that are in those cocoa beans."
Listen
Cocoa beans vary as do grapes
Cocoa beans impart many different flavours says Gilmore comparing them to grapes from different regions and different years that give wine an endless variety of flavours.
Gilmore and her husband Drew met as foreign-aid workers about 15 years ago and worked with farmers. This gave them some knowledge and inspiration to start their business. Drew initially travelled to buy beans, but because making chocolate this way is so time-consuming, they now work with others to buy their beans.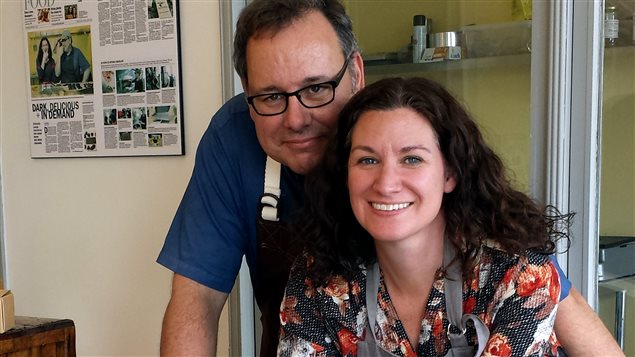 Committed to paying better than fair trade prices
They say they are however committed to paying farmers better than fair trade prices for the best quality beans that are grown sustainably and ethically.
The chocolate bar that won first prize was the Hispaniola made with beans from the highlands of the Dominican Republic. Among the other winning bars are one that includes honey and lavender grown in Ontario and another that is made with sea salt from Vancouver Island at the western-most point of Canada.
Some of the chocolate is sold at a small shop where it is made in Almonte, 40 minutes west of the capital, Ottawa. It is also sold in specialty shops nearby, in Toronto, Calgary, Montreal and New York as well as online.
'Exciting time for craft chocolate'
"I think we're in a really exciting time for craft chocolate," says Erica Gilmour. "It's really where specialty coffee and craft beer were several years ago
"As people more aware of the difference in the flavour and the experience of eating craft chocolate I think more people will search it out and it will become more popular.
'Good news for farmers' too
"And I hope that will also be good news for farmers who are committed to growing more heirloom varieties of cacao that might be lost otherwise."