Denis Morin celebrated his retirement with an amazing adventure. An avid riverboarder and swimmer, the 54 year-old Quebecer decided to tackle the Yukon River, all the way through Alaska to the Bering Sea. And he is the first person to do so.
A former information technology employee, Morin sold everthing and outfitted himself for his new life of travel. He began the 3200 kilometre trek in May taking his time swimming or boarding.
"I'm most proud of finishing without any injuries," he said. "It was a magnificent adventure."
"I'm most proud of finishing without any injuries," he told CBC News last week as he was celebrating the his accomplishment. "It was a magnificent adventure."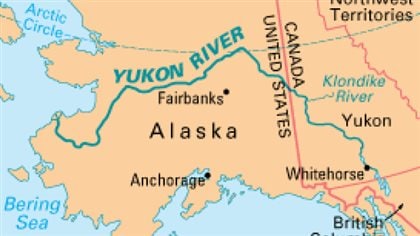 Riverboarding is a whitewater sport, Morin explained. A riverboard is similar to a paddle board but with raised edges.
Equipped with both helmets and flippers, when the river isn't moving fast enough, riverboarders swim.
Morin wore a wetsuit to deal as the Yukon River is frigid even in the summer.
The journey took 75 days which included 10 days of rest, from late May to early August.
Generally he spent six hours a day in the water, however, when he got to Arctic Circle he was in for 11 hours with the sun shining most of the day.
In an interview with Nicole Thompson of the Canadian Press, Morin said, "It was a wonderful day."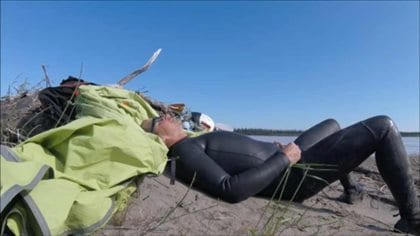 Not so wonderful was his arrival at Lake Laberge with snow and hail. Early in the trip he wondered, "What kind of adventure am I getting myself into? he said.
Two inflatable bags floating behind him carried what he needed: his tent, a first aid kit, some clothes and three months worth of food, dehydrated "astronaut" food, as he described it.
Stopping occasionally at villages by the river Morin would pick up what he described as comfort food, cookies. 'I'm kind of a cookie monster and I couldn't bring cookies for three months." he told Thompson.
Morin was being cheered on by Alaskans toward the end of his journey and there was a group to meet him at the finish.
 And one of the most moving experiences he relayed to Thompson, was following a stop in Moutain Village, Alaska. A reservation of Indigenous people with a population of less than 1,000 people, Morin said he had connected with them. When he was leaving a group of villagers gathered to say good-bye on the beach.
Morin said that's something they traditionally do for loved ones. "I saw a group of people coming to the beach, just to see me," he said. "I'll bring that with me for a long time."