Jeanne Beker is being honoured with a star on Canada's Walk of Fame. The fashion maven and TV personality was the woman at the helm of 'Fashion Television'. The show, that brought us the designers, the catwalks and the behind-the-scenes commotion, aired for 27 years in 130 countries.
"To have a star on a sidewalk, especially in a hometown that you love so much… I couldn't be happier!"
She is one of seven inductees this year including, hockey great Darryl Sittler, actor Jason Priestley, musician Corey Hart, the late actor and director Al Waxman. filmaker Deepa Mehta.  And the award that recognizes young, rising music stars who've achieved international success, this year goes to country singer Brett Kissel.
Listen
Already honoured with the Order of Canada, Jeanne Beker says there is something special about this experience. She dreamed of being famous when she was a child. With a smile in her voice at the memory, she shares the wisdom of experience, not knowing how much hard work it takes or how much of the joy is in the journey.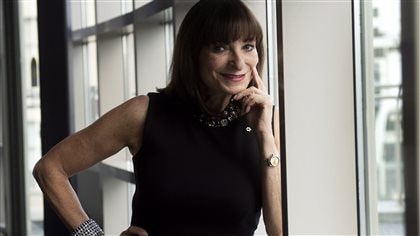 Beker is delighted now to be joining such notables as singer-songwriter Joni Mitchell, astronaut Roberta Bondar, writer Margaret Atwood, actor Christopher Plummer, chef Mark McEwan, Olympian Clara Hughes, and jurist Louise Arbour, who are all past inductees.
"To have a star on a sidewalk, especially in a hometown that you love so much… I couldn't be happier!" she says. When asked about our emerging ability to celebrate ourselves Beker is quick to respond, "I find that there is this amazing spotlight that's been cast upon this country, certainly in recent months." She says, "Canada is really being seen now as a very interesting country that has been able to stand apart and not necessarily get that caught up in the hype. I think we as Canadians can see the forest for the trees and I think we've had a long time to digest these feelings of perhaps, insecurity and certainly humility."
"Celebrate Canadians who have excelled in their respective fields, and to inspire the next generation"
Jeanne Beker is proud of her work on Fashion Television, and with the opportuniities that came during an international career, that she stayed here. "I always came back home to Canada." The idea for the program originally was similar to a music video format. But it was Jeanne that saw the potential; "Let's go and meet them where they live. Let's go into the studios, let's visit them in the hotel rooms, let's go on the road with them and ride the tour buses with them." And that's how it worked for 39 episodes a year, over 27 years.
Now the author of six books, Jeanne Beker is still talking fashion with the best and brightest, curating a line of clothing for The Bay, and working with The Shopping Channel. But for the next few weeks, she'll enjoy the anticipation of having her star on the sidewalk.
The 2016 Walk of Fame honourees will be celebrated at a gala in Toronto on October 6. The ceremony will be taped by Global Television for broadcast later in December. The motto of it all, is: "To celebrate Canadians who have excelled in their respective fields, and to inspire the next generation"