Bye-bye cute polar bear.
Instead of the photogenetic Arctic predator, Canada's newest two-dollar coin, or the toonie, features a heroic chapter in Canadian history.
The Royal Canadian Mint unveiled the new coin commemorating the 75th anniversary of the Battle of the Atlantic at a special ceremony held today in Halifax, aboard HMCS Sackville, the last of 123 Canadian corvettes to sail in World War II.
"I'm flabbergasted, I'm speechless," Norman Crewe, who served in the merchant navy told CBC News in Halifax. "I'm really proud today."
The Battle of the Atlantic began on Sept. 3, 1939, when a German submarine sank the SS Athenia, a Montreal-bound passenger ship, west of Ireland.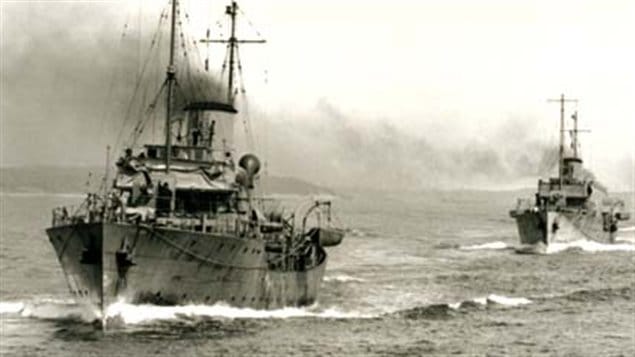 The Royal Canadian Navy, the Canadian merchant navy and the Royal Canadian Air Force were then tasked with escorting merchant ship convoys across the ocean to Europe, ensuring the important shipping route remained open.
Veterans Affairs Canada says more than 4,600 people died during the battle, which is considered to be the longest battle of World War II.
"On the 75th anniversary of a turning point for Canada in the Second World War, our new two-dollar circulation coin is giving millions of Canadians yet another story worth holding onto as we remember how our veterans, in the armed forces and the merchant navy, helped win the Battle of the Atlantic," said Sandra Hanington, president and CEO of the Mint.
The coins feature the artwork of Canadian maritime artist Yves Bérubé. They depict an anti-aircraft gunman positioned on the deck of a Corvette; an Allied aircraft hunting enemy submarines; as well as a merchant ship whose vital cargo is protected by a nearby navy vessel on convoy duty.
Five million $2 coins have been made with the design and released into circulation in time for Remembrance Day.
With files from CBC News