It was never going to be smooth sailing for the Trans-Pacific Partnership but Friday's spectacular sinking of the Canada-EU trade deal despite frantic last ditch efforts to salvage it, brings nothing but bad omens for the 12-nation trade deal.
The Comprehensive Economic and Trade Agreement (CETA) was supposed to be signed at an EU-Canada summit next week. However, the deal, which would have removed 98 per cent of tariffs and trade barriers between Canada and 28 EU member states, was blocked by the Belgian region of Wallonia.
Sujata Dey, Trade Campaigner with the Council of Canadians, who is currently in Belgium to campaign against the deal, said it's time to take a "long hard look" at what the CETA impasse means for other controversial deals like the TPP, which includes the massive American and Japanese economies, and creates what has been described as the world's largest free trade zone.
(click to listen to the interview with Sujata Dey)
Listen
The former Conservative government announced an agreement-in-principle on the pact with 12 Pacific Rim countries last October during the federal election campaign.
The Liberals who had criticized the deal while in opposition have spent the past year crisscrossing Canada for consultations on the controversial deal.
International Trade Minister Chrystia Freeland's mandate letter had the implementation of CETA and consultations over TPP as her main priority.
Now all that hangs in the balance.
"We're seeing a paradigm shift when it comes to trade agreements," Dey said.
'A game changer'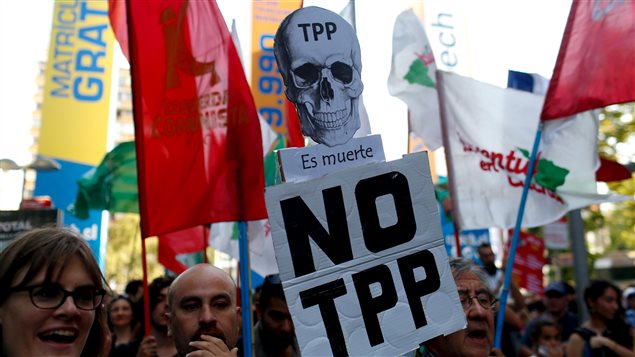 There is opposition to corporate-led free trade not only in Europe, but even in the United States where both Hillary Clinton and Donald Trump are very much against the TPP, as well as in Australia and New Zealand, she said.
The CETA's failure is a game changer in how future trade agreements will be negotiated, she said.
"For example, when we've been negotiating CETA and the TPP, we only had one stakeholder around the table and it's businesses," Dey said. "So, of course businesses are going to write an agreement that is within their own interests and they are going to put rights for investors, they're going to put rights for patents, they're going to put all the things that they want."
A balancing act
But trade will also have negative effects on people and it will have to be balanced, she said.
"This sends a major message to all world leaders that trade agreements need some fundamental changes in the context that we're living in right now," Dey said.
It's time for a fundamental shift toward international agreements that balance people and society and the environment with corporate rights, Dey said.
"Business as usual for trade and globalization is not happening," Dey said. "Europeans have said sent a really strong message that globalization has got to change."