Nova Scotia is sending a Christmas tree to Boston, as it has every year since 1971, but this year for the first time, it has a little farther to travel. It was harvested in the northern tip of the province, in Cape Breton.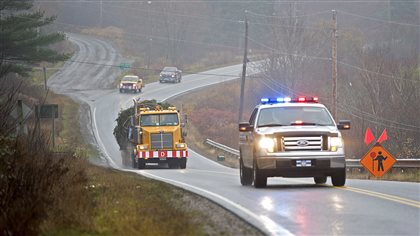 The chosen tree, a 14-metre white spruce, on Crown-owned land, is near the Waycobah First Nation.
The tree-cutting took place today and featured a Mi'kmaq element with a drum group from Waycobah as well as a fiddler and bagpiper.
The December 1st lighting ceremony in Boston is expected to draw 30,000 people, with an estimated 240,000 more watching live on TV.
Waycobah Chief Rod Googoo told Canadian Press his people were proud to take part, because the Mi'kmaq were the first to recognize the United States as an independent country in 1776.
Boston generously sent medical personnel and supplies following the Halifax Explosion, which killed almost 2,000 people and levelled a Mi'kmaq village when a munitions ship exploded in Halifax Harbour on December 6th 1917.
This year, however, the annual tradition was the subject of an investigation due to the $250,000 (Cdn) cost of the venture. 
And you may recall that Cape Breton was the place that extended the warm invitation to Americans in the event of a Trump presidential victory.