Kahnawake, the Mohawk community across the St. Lawrence River from Montreal, has been the scene of a vigil in support of the pipeline protests in North Dakota for over two weeks now.
"Water is our first medicine"
Blair Dearhouse, spoke to CBC News on October 31st, 2016, after spending three days at the vigil site. "We're here to protect the planet and raise awareness of what's going on," he said.
A teepee was constructed on the site with a sign that reads "Water is our first medicine".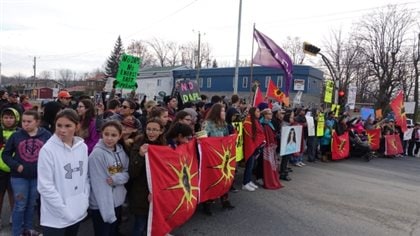 This morning again, during the rush hour traffic into the city, supporters including high school students, raised the issue with commuters.
Pamela Palmater, a Mi'kmaq lawyer whose roots go back to the Eel River Bar First Nation in northern New Brunswick, is now Chair in Indigenous Governance at Ryerson University in Toronto.
She says the protest began in North Dakota when the company changed the original route to cross Sioux territory. She says while Indigenous people in the U.S. are known for their historic stands, such as Wounded Knee, Palmater says, "This is the first really modern conflict, and it's based over their treaty rights, this is on their territory."
Listen
If completed, the 1,900 kilometre pipeline would carry about 500,000 barrels of crude per day from North Dakota's Bakken oilfield to Illinois.
The Standing Rock Sioux refer to the pipeline as a black snake. In the event of a rupture and spill, their drinking water would be poisoned and their sacred land destroyed. They want the pipeline rerouted. 
Neil Young's birthday wish
Neil Young, the Canadian musician and environmental activist, visited the large Oceti Sakowin camp near Standing Rock, playing guitar and singing for the hundreds of people who have been demonstrating since July.
"Got my birthday wish today," Young posted on his Facebook page on Saturday November 12th. "Those who damage Mother Earth damage us all."
In late October, more than 100 people were arrested when police moved in to evict them from land owned by Energy Transfer Partners, which is building the pipeline. The company's security firm attacked activists with dogs and pepper spray. But the tribes stand united,
Palmater says the election of Donald Trump as U.S. President is not good news for the Sioux.
"With President Obama, he knew the people at Standing Rock. He was, you know, listening and reading submissions and he was acting, not as strong as we would have liked, but he was intervening and that's something pretty significant… Donald Trump of course, he's very pro-pipeline and doesn't believe that there's any climate change happening so we're obviously quite concerned that he might take action with very strong force and try to disrupt what's happening at Standing Rock."
Palmater stresses the insistence by the Sioux elders on a peaceful demonstration at Standing Rock. And while the Jay Treaty of 1794 guaranteed the free movement of Indigenous people and their goods, free of duty and taxes, something that is honoured on the American side of the border, more than in Canada, any outbreak of violence could bring about the detention of Canadian Indigenous particpants under the Homeland Security act.
Groovy Yurts, a Montreal-based company that works with a Mongolian group, has delivered yurts to the Sioux protest site at a significant discount. A recent facebook post conveyed further support: "This might become the biggest authentic Mongolian ger (yurt) camp outside of Mongolia! And this would not have been possible without the dedication of Bataa's family in Mongolia who have crafted those amazing dwellings. Here's what they sent 2 weeks ago when they learned about what was going on… Bayarlalaa – water is life!"
Meanwhile, Norway's largest bank, is reported to be reconsidering its investment in the project. Last Monday hundreds of protesters marched through downtown Montreal demanding Canadian banks invested in the project, such as TD, Scotiabank and RBC, withdraw their support as well.