The last thing I remember before my German colleague Volker Handloik died in a hail of bullets was a feverish but a very methodical mental calculation: should I stay or should I follow him and jump?
Muzzle flashes from at least half-a-dozen AK-47 assault rifles and a heavier PK machine gun, spewing hundreds of rounds at us, illuminated the velvet Afghan night barely 25 meters to our right.
Several of the Northern Alliance soldiers accompanying us also jumped or fell as the infantry fighting vehicle we were on, an old Russian-made BMP-1, lurched down the hill slope like a wounded animal, trying to evade the Taliban ambush.
In the split second it took me to decide to stay on top of the BMP, Volker rolled on the ground like a stuntman and disappeared from my view.
I never saw him again.
But that image of Volker, a writer for the German Stern magazine, wearing his quilted Afghan overcoat, his long ginger curls tied in a knot in the back, rolling on the ground to break the jump from the fast-moving troop carrier, remains seared in my memory 15 years later.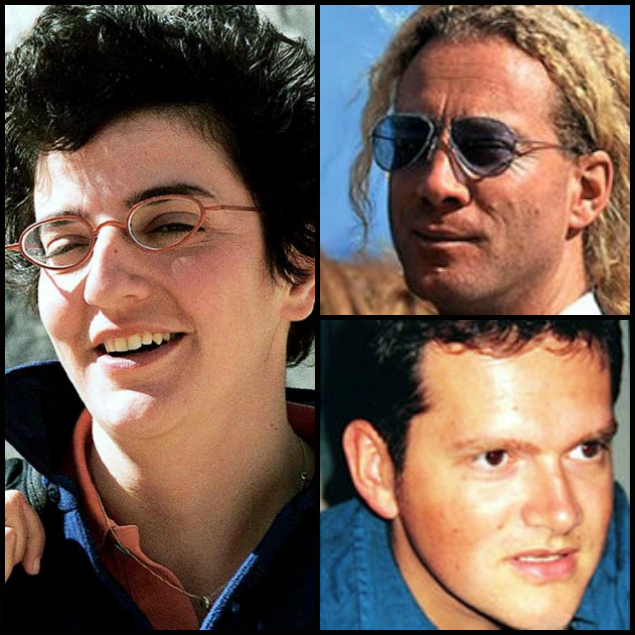 Johanne Sutton (left), Volker Handloik (top right) and Pierre Billaud (bottom right) were killed in a Taliban ambush in northeastern Afghanistan on Nov. 11, 2001.
Two other European journalists – Radio France International reporter Johanne Sutton and her friend Pierre Billaud of Radio-Television Luxembourg (RTL) – were also killed in that incident on Nov. 11, 2001 near the village of Dasht-e-qala in Afghanistan's northeastern province of Takhar.
And I can still feel Johanne Sutton's smooth and tender hand as warmth left her lifeless body with every drop of the blood that oozed out of a gaping wound in her back as I held her for one last ride bumpy ride on Afghan roads.
'A wake-up call'
Their deaths, first in a line of many others to come after 2001, became a catalyst in a major shift in how media organizations in the developed countries approached covering wars and conflicts, said Michel Cormier, a veteran foreign correspondent.
Since 2001, 215 journalists have been killed while covering war and conflict, according to statistics compiled by the Committee to Protect Journalists. The total number of journalists killed from 2001 to date (as of Nov. 19, 2016) is 866.
"Before we were just babes in the woods," said Cormier, head of news and current affairs at Radio-Canada, the French-language service of Canada's public broadcaster.
(Watch an illustrated excerpt of the interview with Michel Cormier, executive director News and Current Affairs of CBC/Radio-Canada French Services)
Many journalists weren't aware of the dangers, had no equipment to protect themselves from bullets or shrapnel, or even from disease or car accidents. And most reporters had no training whatsoever in first aid, said Cormier who has covered several conflicts, including the war in Afghanistan, for Radio-Canada and CBC.
"I think Afghanistan changed the way we covered wars," Cormier said. "For one thing we were not in conventional wars, now we were perceived as part of the enemy."
New realities of war
News organizations and reporters had to adapt to the new realities of this guerrilla warfare where there are no clear frontlines, Cormier said.
"And secondly we've learned that we need to know how the war works: what kind of weapons we're up against, what's the trajectory of bullets, how far they travel, through what they actually move, whether it's a brick wall or a car tire," Cormier said. "I think that was a wakeup call for most of the journalists at the time."
Many media organizations now have experts on staff whose main job is to take care of the security of journalists and make sure that they are equipped and trained to go into war situations, or even domestic disturbances such as protests and riots, Cormier said.
News editors, reporters and security experts are now constantly working to assess the potential risks of an assignment to see whether it is manageable enough to send journalists into the field and whether it these risks are justified editorially, Cormier said.
Journalists targeted
Robert Mahoney, deputy executive director of the Committee to Protect Journalists (CPJ), said he wants to see the same standards applied not only to staff reporters but also freelance journalists who contribute a significant portion of news content now.
Mahoney said increasingly, news managers and reporters have to take into account a relatively new phenomenon.
"That a journalist is of use to a group such as a militia not as a messenger, not as someone to get their story out but as someone to hold ransom for money or for political, or propaganda purposes," Mahoney said.
(Watch an illustrated excerpt of the interview with Robert Mahoney, deputy executive director of the Committee to Protect Journalists) 
Digital security
Another new phenomenon that reporters are grappling with is information and digital security, Mahoney said.
"For me it's actually as important as the physical security, because compromised digital security can lead to physical danger and physical insecurity," Mahoney said.
The audio of our full interviews is posted below.
Listen to the full interview with Robert Mahoney:
Listen to the full interview with Michel Cormier:
Special thanks to Khady Beye for producing the Youtube videos