John Redstone did not intend to predict the future in his novel "Christ came from Croydon" but, as in the book, the gap between rich and poor has grown, and the anger and resentment towards the rich has had shocking effect.
The anger has spawned hatred in both arenas. In real life, people in the U.S. elected Donald Trump as president and right-wing political parties have become increasingly popular in Europe.
Terrorists become more violent
In the novel set 20 to 30 years in the future, a ruthless terrorist group is active throughout the world and is ready to start a revolution. A break-away group seeks to increase the level of atrocities.
Into the chaos comes a spiritual leader who is either seen as a fake or the new Messiah, and who tries to avert the on-coming disaster. The leader is from Croydon, England which happens to be Redstone's home town and, he says, is the most unlikely place for a religious leader to appear. "People are so down to earth there it's almost unbelievable…it's the last place you'd expect somebody to show up."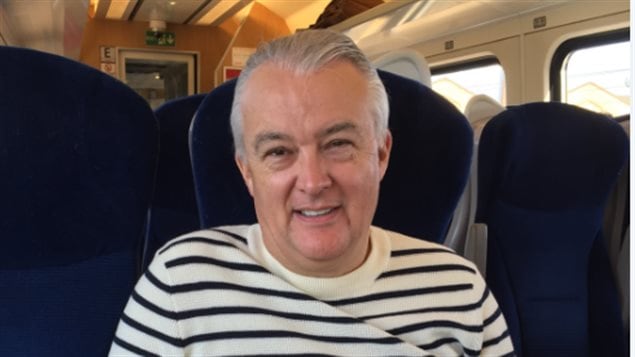 Listen
Not your usual protagonist
Now retired in Montreal, Redstone drew from his experience as a leading mining analyst to tell the tale from a different point of view than the often-used lawyer or investigator.
"The story is told from the perspective of a long-suffering stock analyst," says the author. "This poor fellow is in the position of still working in what's left of the Canadian financial industry and he's trying to make money for his investors with all this chaos going on. As you can imagine that's quite the challenge."
As the book description says, the protagonist has to "cope with a chaotic World where terrorist threats are ever present, insects have become part of the staple diet and many people have more sex with robots than other human beings."
'If we keep on going…'
And what does Redstone hope people take from the book? "I hope that it gives them a little bit of a laugh. I tried to make it a bit humorous.
"And I suppose it gives them a chance to think about what might actually happen if we keep on going down the path that we're in right now. And at the end of the day, as the religious leader says, 'If the whole world and everything that humanity has ever stood for ended tomorrow, who would miss us? We're all we have.'"