North Bay, Ontario was the scene of a winter wonder last week. Timothy Joseph Elzinga witnessed the spectacle on a very cold night.
Awoken by his two year-old son around 1:30 am, he looked out the window to see something he'd never seen before. He thought it was a variation of the northern lights. After comforting his son he got dressed to go outside to investigate further.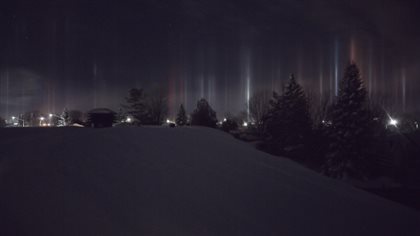 He met a couple of his neighbours who were also checking out the sky. One of them explained that what they were seeing is a phenomenon known as light pillars.
They occur when it is so cold that the moisture in the air freezes to create prisms that reflect the light below.
The group of neighbours watched as the colours changed from red to green to yellow and blue, as traffic lights and advertising signs would.
His posts on imagur have received more than 60,000 views…  and lots of mentions of Star Trek!