The weather outside is frightful! The day began with a coat of ice covering everything. Cars and pedestrians were slipping and sliding all over the place as the freezing rain continued.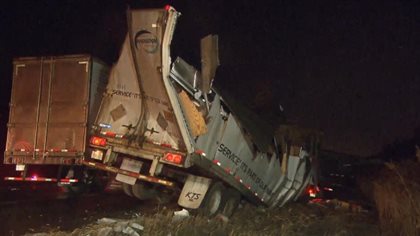 Many Montreal streets were not salted and cars were sliding into intersections and often into other cars.
A pile-up of 7 transport trucks closed the 401, the main highway between Montreal and Toronto, at the provincial border. The crashes happened around 4 a.m. with one truck losing its load. It took several hours to clear the wreckage. Just one driver was taken to hospital with minor injuries.
Several regional school boards have closed for the day, keeping school buses off the roads as well.
The dangerous weather is affecting eastern Ontario, southern Quebec as well as New Brunswick and Nova Scotia.
In New Brunswick even university classes have been cancelled and most flights are grounded.