Sheridan College opened in September 1967. The first year began with 380 students, 32 teachers and 17 programs in a small former high school in Brampton, Ontario
Listen
Now Sheridan educates 23,000 full-time students in more than 120 diploma, certificate, and bachelor degree programs across the disciplines of the arts, business, community service, health, technology and the skilled trades.
This year Sheridan is among the 24 colleges created in 1967 across the province of Ontario, celebrating the milestone of a 50th anniversary.
Christine Szustaczek, director of communications at Sheridan, says it was a system-wide initiative.
"All of those colleges were created to create an opportunity for people who might not go on to university but who weren't quite ready to go in to direct employment, who were looking for more applied hands-on learning."
A quarter of the full-time students these days are international students, from as many as 70 countries, with a majority of them coming from India and China.
The Animation Program at Sheridan is well-known in Canada for the many graduates who go on to distinguish themselves.
Chris Williams, who won an Oscar in 2015 as co-director of 'Big Hero 6', was nominated again today for an Academy Award as co-director of Disney's 'Moana'. Another graduate, Alan Barillaro, was nominated in the Animated Short category, for 'Piper'.
"There's an old adage, 'musicals aren't written, they're re-written"
19 former graduates are nominated for a variety of work in the upcoming Canadian Screen Awards, to be announced on March 12th, in Toronto.
The Music-Theatre Performance program is another major contributor to Canadian culture. Szustaczek says the program has added an incubator for the development of new musicals.
"Not only are we educating the performers of the future, but we're making our way onto stages as content creators, because through this incubator we invite writers and lyricists and script-writers and musicians and directors to come together and to give them dedicated time to write and test their material and workshop their material on our stages."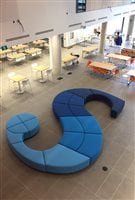 The students in the program get to bring the works to life. "There's an old adage; 'musicals aren't written, they're re-written", Szustaczek says,
Sheridan's theatre incubator has allowed 15 musicals to take shape there, including the most recent, and perhaps the most successful, "Come From Away", which just wrapped up its Toronto-run, is now set to open on Broadway.
It's the story of Gander, Newfoundland after 9/11, when it hosted thousands of grounded airline passengers and crew. The show is based on the real experiences of the characters, as told to the husband and wife creative team, Irene Sankoff and David Hein.
Programs in game-design are a big draw as is industrial design, one of the original programs, and some of the connected areas of study that have developed in this field. The college now has a centre dedicated to advance manufacturing and design with 3-D printing and robotics, a state-of-the-art facility.