It is January 25th, an important calendar date for those of Scottish heritage around the world.  It is the anniversary of the birthday of Robbie Burns, Scotland's most adored poet who came into this world on this day in 1759.
According to the 2011 census, a little over 15 percent of the Canadian population is of Scottish origin or descent.
Ottawa troubador and stonemason Bobby Watt is one them, a Canadian who retains his wonderful Scots accent
A few years ago I contacted him and here, in what has become a tradition for us, he gives us an authentic rendition of Burns famous poem "Address to a Haggis".    I hope you enjoy this special treat.
Listen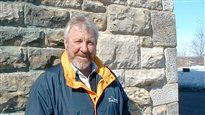 Robert Burns was a pioneer of the Romantic movement, an inspiration to founders of liberalism and socialism,  the most celebrated of Scottish poets, and a cultural icon to Scotland and Scottish descendants around the world.
The Scots played a pivotal role in the exploration, settlement, and principles of Canada, and with about 5 million Canadians claiming Scots blood, and many who are "temporarily" Scottish on this day,  there are a multitude of "Burns Suppers" across Canada.
"How the Scots Invented Canada"-RCI-McCoogan
At those suppers, which are carried out in a long-standing tradition, the Scottish meal of haggis is served. Haggis consists of sheep's heart, liver, and lungs minced with onions, oatmeal and spices, and then simmered in a sheep's stomach for several hours, and served with turnips and potatoes, (neeps and taties).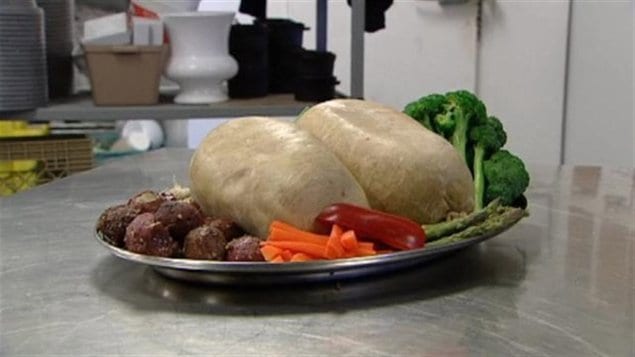 It is always brought into the dinner room, to the stirring skirl of the great highland bagpipe, at which point someone is chosen to recite the famous poem "Address to a Haggis".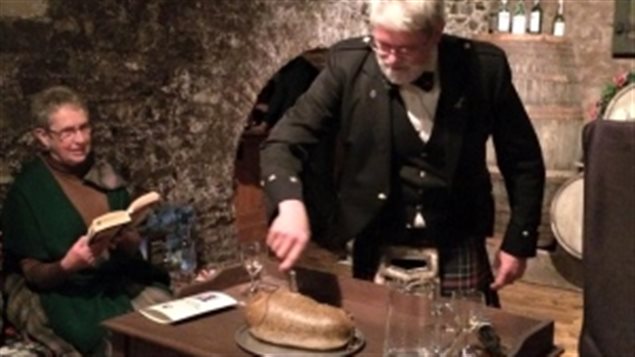 TEN THINGS ABOUT BURNS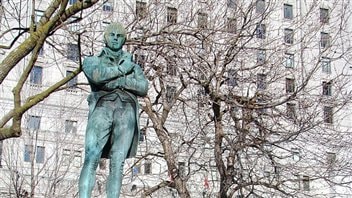 1. His handsome image is everywhere: There are more public statues of Burns around the world than any other writer. Apparently, only Queen Victoria and Christopher Columbus have more statues when it comes to non-religious figures.
2. People have preserving his literary legacy for ages: The Burns Monument Trust, established in 1814, is considered the world's earliest literary heritage group, and predates the Shakespeare Birthplace Trust by more than 30 years.
3. He's a hit songwriter: The Guinness Book of World Records recognizes Burns's Auld Lang Syne as being one of the three most popular songs in the English language, eclipsed only by Happy Birthday and For He's a Jolly Good Fellow.
4. He was hugely popular in the USSR: In 1956, to mark the 160th anniversary of Burns's death, the Soviet Union commissioned a commemorative stamp, making it the first country/constitutional state to honour the poet in such a way.
5. Michael Jackson was a fan: Pop music legend Michael Jackson was such a huge fan of Burns's poetry that he recorded a collection of show tunes with American producer David Gest based on Burn's life and work that were never formally released.
6. He inspired Salinger: The title of J.D. Salinger's iconic 1951 novel Catcher in the Rye was based on Burn's poem Comin' Thro' the Rye.
7. He beat Braveheart (sort of): In 2009, Burns was crowned as the Greatest Scot of all time, narrowly edging out rebellion leader William Wallace, in a public vote as part of a national television special on STV.
8. You may not have actually wanted a visit from him back in the day: Towards the end of his life, Burns continued to write poetry but found regular employment as a tax collector.
9. Out on a date and need to reference a Burns poem to look sophisticated? There's an app for that: In 2011, the Scottish government released a free iPhone app that featured a searchable database of every poem written by Burns and a handy guide to hosting a Burns Supper.
 10. His friends started a tradition in his honour that became an international phenomenon : The first recorded Burns Suppers took place in 1801 and featured a few close friends of the writer who got together to mark the fifth anniversary of his death. They couldn't possibly have known that, hundreds of years later, people from across the globe continue to gather in pubs and homes to re-create their tribute.
Additional information -Sources: