Millions of people in the Horn of Africa are on the verge of a severe food crisis or even a famine in parts of Somalia unless aid agencies working in the region receive urgent funding, according to CARE International.
Aid workers on the ground in the vast region, which encompasses Somalia, Ethiopia, Eritrea, Djibouti and Kenya, are seeing the same warning signs that preceded the famine in Somalia six years ago, CARE warns.
The international community needs to act quickly to avoid the repetition of the 2011 famine that killed more than 260,000 people, says Raheel Nazir Chaudhary, CARE's country director in Somalia.
"Today, we still have time to implement early response programs to help protect people's assets and food stocks, prevent people from going hungry en masse and prevent hundreds of thousands of children from suffering crippling malnutrition," Chaudhary said in a statement.
"We cannot wait until the TV cameras appear and start broadcasting starving children. The time to support is now."
Two years of drought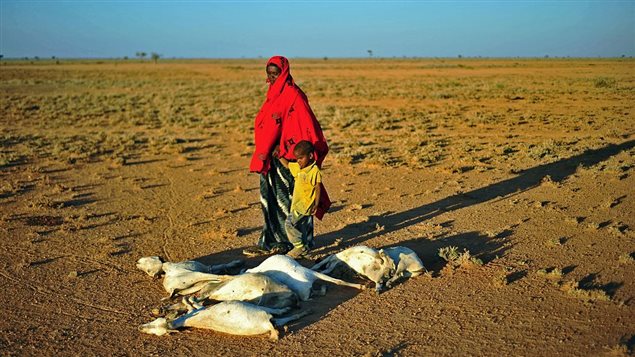 Two years of consecutive droughts, exacerbated by one of the strongest El Niño events ever recorded and followed by its no less disruptive sister, La Niña, have already produced severe water and pasture shortages in pastoral regions, and severe loss of livestock and reduced milk production in the north of Somalia, warned the United Nations' World Food Program.
The drought is also forcing thousands of pastoralists farther and farther away from their traditional grazing grounds in search of water, increasing conflicts among various ethnic groups in competition for the scarce resources, said Stephen Gwynne-Vaughan, CARE's country director in Kenya and former Ottawa resident.
"There is an increased number of livestock deaths and what households are trying to do is to sell their animals before they starve to death," Gwynne-Vaughan said in a phone interview from the Kenyan capital of Nairobi.
As a result prices for livestock have plummeted, while prices for water and food have skyrocketed.
"They're not getting much money for them and the food and the grains they are buying, they are all costing more, so each household is having less food to eat and we're seeing an increase in the rate of acute malnutrition at an alarming rate," Gwynne-Vaughan said.
'National disaster'
Even in parts of Kenya, which compared to its neighbours has a much more abundant and robust water supply, people have to rely on special deliveries of water by truck and get by with 10 or 20 litres of water per day (an average Canadian consumes about 330 litres of water per day).
The Kenyan government has declared the drought a 'national disaster.' The governments of both Kenya and neighbouring Ethiopia warn that several million people in each country will require food, nutrition and livelihood support in the coming months, the WFP reports.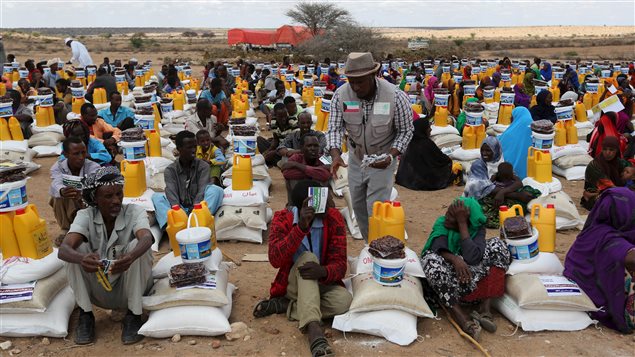 According to CARE estimates more than 15 million people are currently affected by the drought in Ethiopia, Kenya and Somalia.
Among them are nearly 680,000 pregnant women and lactating mothers, CARE says.
"Women and girls are the most affected by droughts and food crises. As families are skipping meals and only eat once a day, women and girls eat last and the least," said Chaudhary. "In Somalia, women and girls are responsible for herding small livestock and collecting water. Yet as most water points dried up, they now have to walk on average 50 kilometres in search for water."
Bleak forecast
In addition, long-term climate forecasts provided to the WFP predict another poor 'Gu' rainfall season (from March to May), which is usually the most productive season of the year.
"The forecasts are bleak. If it won't rain in the coming months, famine will become a possibility in Somalia. We need funding now to prevent families from tipping over the edge into severe hunger," said Chaudhary.