Cricket Newfoundland and Labrador wrapped up the winter season on Sunday in St. John's when the NL Avengers beat the Newfoundland Superkings.
At the city's PowerPlex the teams competed for the Championship Trophy.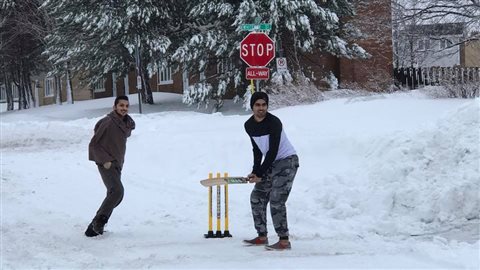 "This is a game that everyone enjoys and it brings us together," Gurman Khurana of Cricket Newfoundland and Labrador told CBC St. John's.
"When I got here [in 2009] there was hardly a league,"
"It's just a way to get out in winter and have some exercise." he said.
In mid-February, several players took advantage of the consecutive snowstorms that brought the city to a standstill to play some "street-cricket".
Cricket goes back to the early 20th century in Newfoundland, but the sport is really only taking hold now.
"When I got here [in 2009] there was hardly a league," Khurana said.
"We only had around seven or eight players; mostly students, playing with a tennis ball. Now we have over a hundred members in the league."
The popularity of the sport is growing across Canada.
Indeed the next challenge for a team from Newfoundland and Labrador will be the Eastern tournament.
They'll be competing against players from Prince Edward Island, Nova Scotia, New Brunswick and Quebec in that one.