'The Big Maple Leaf', the huge gold coin, was stolen from the Bode Museum early this morning.
Issued by the Royal Canadian Mint, the coin is 3-centimetres thick and about the width of a car tire.
Certified by Guinness World Records due to its size and 999.99/1000 gold purity.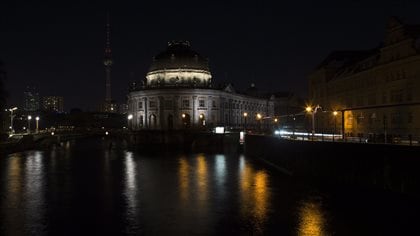 It's a $1-million (Cdn) coin, but, due to the 100 kg weight of high-purity gold, it may be worth more than $5-million (Cdn) by current gold prices in Germany.
It had been in a bullet-proof glass-enclosed display at the musuem, which is located at the edge of an island in the Spree River, in the middle of the German capital.
Martin Halweg, a spokesman with the German police, told The Globe and Mail newspaper, that the thieves arrived Monday between 3:20 and 3:45am.
They apparently used a three-metre long ladder to a window to get into the museum and then a wheelbarrow to carry the coin away.
"Based on the information we have so far we believe that the thief, maybe thieves, broke open a window in the back of the museum next to the railway tracks," police spokesman Winfrid Wenzel told Reuters. "They then managed to enter the building and went to the coin exhibition.
The German newspaper Bild, quoting unnamed police sources, said the robbers found an opportunity in construction work at the museum. They also said the chance of finding the coin are minimal as it can be melted immediately.
The police communiqué asked the public to report any offers of large volumes of gold for sale.
The coin was in the Bode Museum's Numismatic Collection since December 2010.
Minted in Ottawa in 2007, with the profile of Queen Elizabeth II, it was certified by Guinness World Records due to its size and 999.99/1000 gold purity.
It was one in a set of five related giant gold coins the Royal Canadian Mint made to highlight its new line of high-purity bullions.