Canada's music industry celebrated its most outstanding artists during the annual Juno Awards ceremony broadcast live from Ottawa's sold-out Canadian Tire Centre on Sunday.
The two-and-a-half hour broadcast was hosted by stand-up comedian Russell Peters and Canadian rock music legend in his own right Bryan Adams.
The show opened with a greeting from this year's recipient of the Allan Waters Humanitarian Award, the Saskatchewan-born Cree singer-songwriter, Buffy Sainte-Marie.
The Ottawa-based group A Tribe Called Red, celebrated Canada's indigenous culture with a performance featuring the Black Bear Drum Circle, Sainte-Marie, and internationally-renowned Inuit throat singer, Tanya Tagaq from Nunavut.
Legendary Canadian poet and bard Leonard Cohen who received the Album of the Year award at Saturday's Juno Gala Dinner & Awards, was honoured again Sunday night, with a moving tribute by Feist, who interpreted Cohen's classic Hey, That's No Way to Say Goodbye.
Prime Minister Justin Trudeau and his wife Sophie Grégoire-Trudeau delivered a touching tribute to Cohen, who won six previous Junos during his lifetime and was inducted into the hall of fame in 1991.
The Tragically Hip  lead man Gord Downie received Songwriter of the Year, while the band took home Group of the Year award.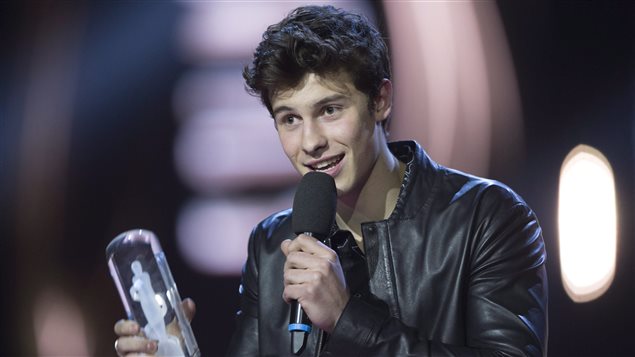 Teenage pop sensation Shawn Mendes, who got the crowd on their feet with his sizzling single Mercy, won Juno Fan Choice Award.
Adams inducted 10-time JUNO Award winner Sarah McLachlan to the Canadian Hall of Fame. McLachlan later performed a stirring rendition of her song "World on Fire".
Winners from the Juno Awards' televised ceremony on Sunday:
Album of the year: "You Want It Darker" – Leonard Cohen
Group of the year: The Tragically Hip
Breakthrough artist of the year: Ruth B
Songwriter of the year: Gord Downie for "The Stranger," "The Only Place to Be" and "Son" from his album "Secret Path"
Country album of the year: "Kiss Me Quiet" – Jess Moskaluke
Pop album of the year: "Know-It-All" – Alessia Cara
Juno Fan Choice: Shawn Mendes
With files from The Canadian Press