While Western media attention has been focused on the tragic deaths of about 85 Syrian civilians killed in a poison gas attack in northwestern Syria on April 4, as many as 3,400 civilians are estimated to have died in air strikes in Syria and Iraq conducted by the U.S.-led coalition in March.
In fact, as the campaigns to oust Islamic State militants from their strongholds in Mosul, in northern Iraq, and Raqqa, in eastern Syria continue to intensify, March saw the highest number of civilian deaths likely caused by the coalition over the last three years, according to a new report by Airwars.
The UK-based group of investigative journalists and volunteers that tracks the number of civilian casualties in Syria and Iraq followed up on a record 166 incidents allegedly involving coalition warplanes. That's a 67-per-cent increase over the 99 events reported in February.
Outbombing Russia
Airwars says for the third straight month alleged non-combatant deaths from coalition airstrikes outweigh those of Russia.
Airwars estimates that coalition airstrikes in March killed between 1,782 and 3,471 civilian non-combatants in Syria and Iraq. Such high The group hasn't seen such high numbers of civilian casualties caused by foreign aistrikes since the worst of Russia's brutal air campaign in 2016.
"These very steep rises in likely civilian deaths from coalition actions are deeply worrying," Airwars director Chris Woods said in a statement. "The number of airstrikes and targets hit in Syria actually fell during March – yet likely civilian deaths were up six-fold. This is the clearest evidence yet that coalition rule changes are placing civilians at greater risk of harm."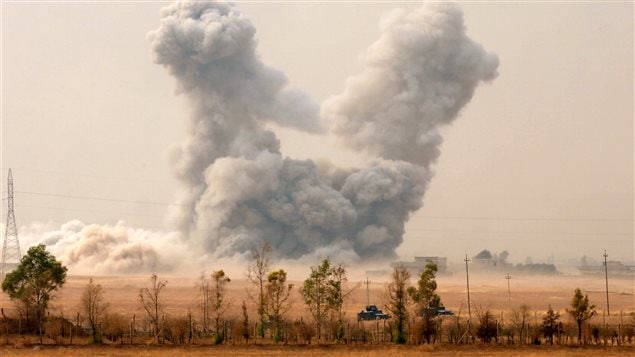 Data collected by Airwars from official sources shows that 3,878 munitions were dropped by the coalition on ISIL targets in March alone.
In the first three months of 2017, the coalition has dropped 10,918 munitions on targets in Iraq and Syria – with January, February and March each setting new records, according to Airwars.
This represents a 59 per cent rise in the number of bombs dropped during the same period in 2016, suggesting that President Donald Trump may be making good his election promise to "bomb the shit out of ISIS," the report says.
Russian strikes also on the rise
After two consecutive months of relative calm in Syria, March also saw a significant and lethal rise in the number of incidents of concern allegedly involving Russian warplanes, the report says.
Airwars has tracked 114 such incidents in March – an 80 per cent increase over February's claimed incidents.
"Russia's focus seemed to be mainly on Idlib province, Hama and the Damascus eastern suburbs," said Kinda Haddad, who leads the Airwars Syria team.