The Canadian Army is set to begin its largest yearly exercise to train for what promises to be a busy year with deployments to various spots around the world from Latvia in the Baltics to northern Iraq and, perhaps, a peacekeeping mission somewhere in Africa.
About 5,000 soldiers from Canada and four allied nations will officially begin Exercise MAPLE RESOLVE 2017 at the Canadian Manoeuvre Training Centre in Wainwright, in northeastern Alberta on May 14.
Canada is fielding about 4,000 soldiers from Task Force Tomahawk based in Petawawa, Ontario, which will assume its responsibilities as the Canadian Army's high readiness brigade on July 1, 2017.
The exercise also involves about 1,000 troops from the Australian Army, British Army, New Zealand Defence Force, and United States Army.
"The following year is going to be extremely busy for the men and women of Task Force Tomahawk, as we deploy all over the world on behalf of the Government of Canada," said Col. Conrad Mialkowski, Commander Task Force Tomahawk. "Exercise MAPLE RESOLVE is the final test in proving that this Task Force is ready to undertake any mission, in any condition."
The exercise also involves a large air contingent including members from the Royal Canadian Air Force and United States Army National Guard, featuring combat helicopters, fighter jets, drones and transport aircraft.
"Exercise MAPLE RESOLVE is an immensely complex undertaking," said Col. Peter Scott, Commander Canadian Manoeuvre Training Centre.
The goal is to create a realistic training environment that adequately prepares soldiers for a wide variety of tasks, Scott said.
"It requires an intricate integration of assets from the Canadian Army, Royal Canadian Air Force, and international partners and allies," he added.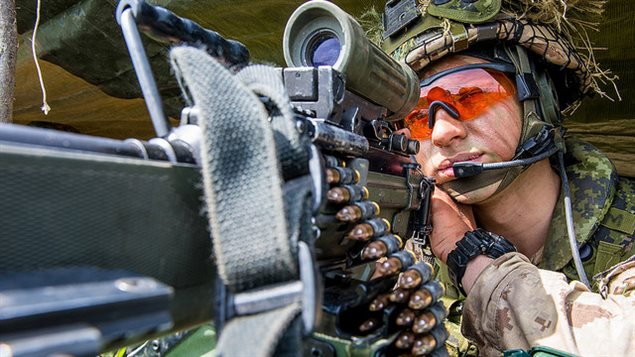 Exercise MAPLE RESOLVE 2017 is the final component of the Canadian Army's Road to High Readiness (RTHR) training program that prepares soldiers for domestic or expeditionary deployments.
Task Force Tomahawk fielded by the 4th Canadian Division's 2 Canadian Mechanized Brigade Group began the RTHR training in July, 2016. It will assume the mantle of the Canadian Army's High Readiness Task Force in summer 2017 and will be ready for missions in Latvia, Iraq, Ukraine, and anywhere else in 2017-2018, the military said in a statement.