Artificial intelligence systems that have been trained to identify tuberculosis on chest X-rays could help combat the potentially deadly disease in remote areas, particularly in Canada's northern communities that suffer from high prevalence of TB and have limited access to qualified radiologists, according to a new study.
Health Minister Jane Philpott acknowledged at a recent health conference in Montreal that tuberculosis remains one of the biggest infectious disease challenges facing Canada's Indigenous and Inuit communities.
Rates of tuberculosis among the Inuit are a staggering 300 times higher than in non-Indigenous Canadians while in Indigenous communities the number is 30 times higher than the Canadian average, Philpott said.
Tuberculosis is one of the top 10 causes of death worldwide, according to the World Health Organization. In 2016, approximately 10.4 million people fell ill from TB, resulting in 1.8 million deaths.
Chest X-rays provide one of the most common and reliable ways of identifying active tuberculosis, however TB-prevalent areas typically lack the radiology interpretation expertise needed to screen and diagnose the disease.
"The idea is if you can create a computer program to at least get close to human accuracy level in far parts of the world that may not have access to radiologist of sub-specialist, an algorithm like this can be provided at no cost or a minimal cost and it could provide an interpretation," said Dr. Paras Lakhani, director of clinical radiology informatics at Thomas Jefferson University Hospital (TJUH) in Philadelphia and co-author of the study published last month in the journal Radiology.
"And maybe that might help in screening efforts in some parts of the world if chest X-rays are used to screen or detect tuberculosis."
(click to listen to the interview with Dr. Paras Lakhani)
Listen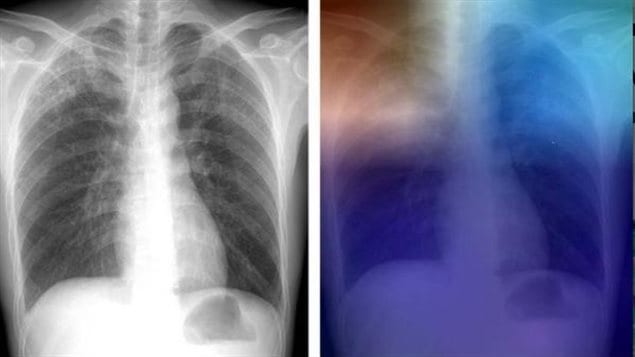 Deep learning is a branch of artificial intelligence that allows computers to complete tasks by processing large sets of data, Lakhani said.
"It's a way for a computer to separate that data, make relationships between the data and come up with a conclusion," Lakhani said.
And like the human brain, a deep convolutional neural network (DCNN), has multiple hidden layers of neurons stacked on top of each other that allow it to process and to classify images, Lakhani said.
For the study, Lakhani and his colleague Dr. Baskaran Sundaram obtained over a 1,000 publicly available X-rays of patients with and without active TB. They also used two open source deep learning algorithms, which ran on an ordinary desktop computer that used powerful graphic processing units or video cards designed for video games.
The cases were used to train two different deep learning models – AlexNet and GoogLeNet.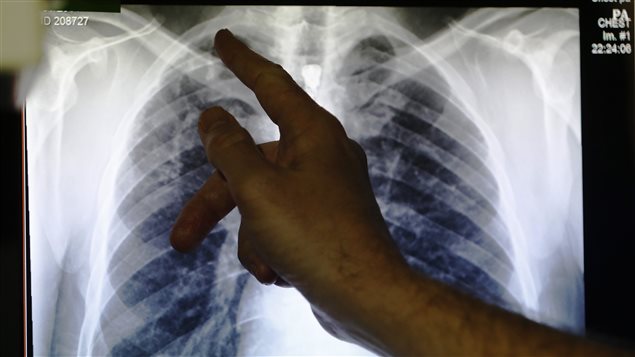 Once the laborious process of organizing the data sets was complete, it took only about an hour for the deep learning systems to learn to recognize TB, Lakhani said.
The best performing artificial intelligence model was a combination of the AlexNet and GoogLeNet, which was able to achieve an accuracy of around 96 per cent, Lakhani said.
"It's probably comparable to how a human would perform," Lakhani said. "Although if you had an expert, like someone really, really good at TB, they would probably do better."
Lakhani said he wants further improve the models and see if some of his work could be used at TJUH.
"I'm hoping that someone might be interested and they could just try it out in an area where there is a higher prevalence of TB to see if it might be useful in the real world."