Fathers are being celebrated across Canada this weekend, as they are in many other countries in the world.
In Canada the role and the experience of fatherhood has changed a great deal over the last couple of decades.
"new dads having baby showers where their buddies all bring them boxes of diapers"
Nora Spinks is CEO of the Vanier Institue of the Family, based in Ottawa. She says, according to a recent survey it appears Canadian men are becoming fathers later in life.
"It's been steadily getting later over the last several decades. So, it was only one generation ago where first-time dads were in their early twenties. Now they're in their early thirties  and it's not unusual to hear about first-time dads in their later thirties or early forties even." says Nora Spinks.
Listen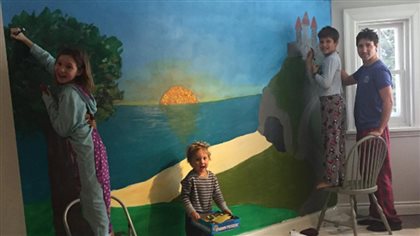 And when they do become fathers, they are generally more involved in their children's' lives, right from conception. It's much more common to hear a man describe a "we" as pregnant now, not just a wife or partner.
And Spinks says the male embrace of fatherhood is pretty widespread, with men even having a version of the 'Baby Shower'.
"We've heard about new dads having baby showers where their buddies all bring them boxes of diapers."
More new dads are taking time with their newborns. In the province of Quebec many new fathers take advantage of paternity leave.
In another major shift, four out of ten dads say they would prefer to be the stay-at-home parent.
"Couples are now making those decisions based on interest, education, opportunity, ability, skills, talents, as opposed to gender; you do this and I do that! Spinks says.
She says  "it's really increasing the opportunities for men to be more actively involved in household management".
Spinks say even grandfathers are sharing their envy as they watch their sons raising the next generation.
Nora Spinks says, however, unlike Mother's Day, Father's Day can be a very sad occasion for some men. She says more fathers than mothers tend to be alienated from their children, and it can be the cause of a great deal of pain on an occasion such as this.