Officials with the Canadian Border Services Agency confirmed Friday that they have intercepted 370kg of cocaine in the Port of Montreal worth about $18 million on the street.
The seizure, which occurred on Tuesday, could be one of the largest cocaine busts in the port's history.
The drugs were found concealed inside steel and aluminium cylindrical rolls, in a container arriving from Mexico, said CBSA spokesperson Dominique McNeely.
The container had been targeted by the CBSA for inspection based on a risk and intelligence analysis, McNeely said.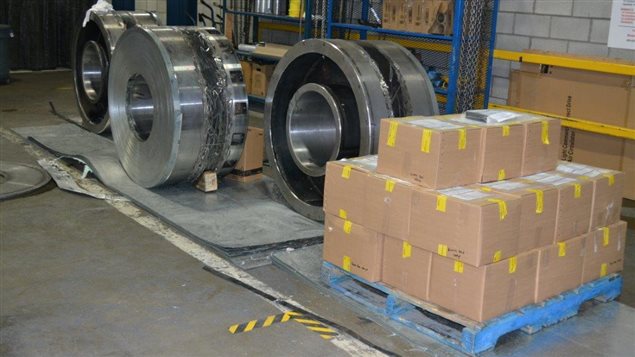 The suspected cocaine was turned over to the Royal Canadian Mounted Police.
"The interception of this suspected cocaine shipment by the CBSA Marine and Rail Service is the result of a concerted effort between several internal and external partners, notably the CBSA's anti-smuggling units as well as the Montreal Police and Royal Canadian Mounted Police," said Patrick Lefort, CBSA Regional Director General for Quebec region. "Information sharing, cooperation and a methodical search allowed us to find the drugs despite the significant efforts that were made to conceal them."
On Monday, in the Bahía Blanca port city of Buenos Aires province, Argentinian officials found two metric tonnes of the drug in eight similar coils, the second-largest cocaine seizure in the country's history, worth an estimated $60 million.
The cocaine, reportedly destined for Barcelona, Spain and Canada, was hidden in steel coils to block customs scanners.
Argentinian police tipped off Canadian officials who swooped in on the illicit cargo on Tuesday. Argentinian investigators believe the drug shipment originated from the Michoacán region in Mexico. Four of the 17 Mexican suspects were arrested in Buenos Aires by Argentinian officials.
It's not clear who in Canada was supposed to take charge of the drugs.
In Quebec, 1kg of the uncut drug (not mixed with other substances) is worth on average $50,000.