Prince Charles and the Duchess of Cornwall touched down Thursday in Iqaluit, kicking off a three-day royal visit that's scheduled to culminate on Parliament Hill in Ottawa this weekend as Canada marks its 150th anniversary.
The royal couple was greeted with an official welcome of military honours and a phalanx of dignitaries, including Governor General David Johnston, Nunavut Commissioner Nellie Kusugak and Premier Peter Taptuna.
After inspecting the guard of Canadian Rangers, Charles made his way to a stage outside the legislative building for the official welcoming ceremony, where he took in a throat-singing performance and offered greetings in Inuktitut.
"Your visit means a great deal to us," Johnston said as he thanked the couple for their contributions to Canada.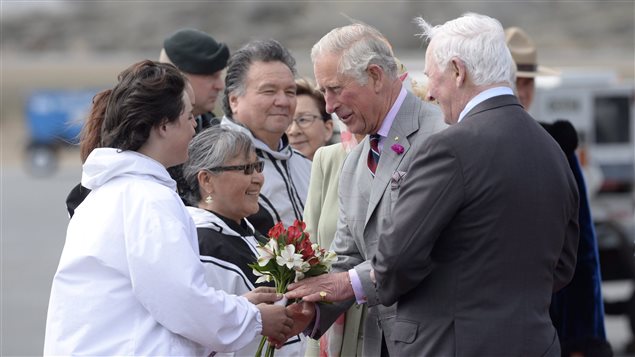 Indigenous Affairs Minister Carolyn Bennett was also on hand to welcome Charles and Camilla.
"I wish you a wonderful visit with us in Canada," Bennett said.
Charles said he and his wife couldn't be happier to be back in Canada.
"Arriving here today brings back the happiest of memories chiefly because this is where I began my first visit to this great country almost 50 years ago," he said.
"I have never forgotten the warmth of the welcome from the Inuit people, which made me feel instantly at home as indeed I have with all Canadians on my subsequent visits."
Welcoming Their Royal Highnesses' The Prince of Wales and The Duchess of Cornwall to #Iqaluit! #RoyalVisitCanada #Nunavut pic.twitter.com/SLWNNiqWti

— Premier Taptuna, NU (@PeterTaptuna) June 29, 2017
A part of the prince's visit to Nunavut is dedicated to meeting with groups who work on the promotion and preservation of Inuktitut, including developing a unified writing system for Inuit languages.
On Friday, the royal couple will fly back more than 2,000 km south to Ontario and Canadian Forces Base Trenton, where Charles will meet military personnel who specialize in airlift and search and rescue operations.
The pair will also visit a farmer's market in Prince Edward County before flying to Ottawa.
Finally, on July 1, Charles and Camilla will start the day by opening the Canadian History Hall at the Canadian Museum of History and then head to Parliament Hill.
They will continue their tour at the National Arts Centre, where Charles will open the newly renovated National Arts Centre.
They will also visit the offices of Shopify, the well-known Ottawa-based international e-commerce company.
To close out the tour, Charles and Camilla will participate in the unveiling of The Queen's Entrance at Rideau Hall, which for the last 150 years has been the official residence of Canada's governor general, the Queen's representative in the country.