Prime Minister Justin Trudeau will apologize to the former Aboriginal students of residential schools in Newfoundland and Labrador.
Residential schools were the severely misguided attempt to "take the Indian out of the child", as the first Prime Minister of Canada, John A. MadDonald, described it.
It was accomplished by taking the children out of the community, and putting them in boarding schools.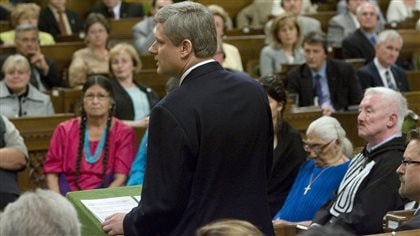 The so-called schools, were government-sponsored religious institutions established to assimilate Indigenous children into Euro-Canadian culture.
The children, some as young as five, were punished, often severely for speaking their language.
Many died and were buried in unmarked graves, and the isolation and abuse students suffered has led to inter-generational trauma and suffering in many native communities to this day.
Former Supreme Court Chief Justice Beverley McLachlin described the system as an attempt to "commit cultural genocide".
The system was in operation for approximately 100 years closing finally in 1996.
The Atlantic province was excluded from former prime minister Stephen Harper's national apology to residential school survivors, which included a compensation package, on June 11th, 2008.
Lawyers for about 800 former students argued Ottawa owed the same duty of care to them, after the province of Newfoundland and Labrador joined the Canadian Confederation in 1949.
This Liberal government under Trudeau offered a $50-million package to settle claims of sexual and physical abuse, along with loss of language and culture.
The Prime Minister's Office confirmed that the apology will take place in Labrador.
The date and location have not been confirmed, but are expected to be announced soon.
One Student's experience: http://indigenousfoundations.arts.ubc.ca/the_residential_school_system/
"Sister Marie Baptiste had a supply of sticks as long and thick as pool cues. When she heard me speak my language, she'd lift up her hands and bring the stick down on me. I've still got bumps and scars on my hands. I have to wear special gloves because the cold weather really hurts my hands. I tried very hard not to cry when I was being beaten and I can still just turn off my feelings…. And I'm lucky. Many of the men my age, they either didn't make it, committed suicide or died violent deaths, or alcohol got them. And it wasn't just my generation. My grandmother, who's in her late nineties, to this day it's too painful for her to talk about what happened to her at the school."
– Musqueam Nation former chief George Guerin,
Kuper Island school
An excerpt from Prime Minister Stephen Harper, official apology, June 11, 2008
Two primary objectives of the residential school system were to remove and isolate children from the influence of their homes, families, traditions and cultures, and to assimilate them into the dominant culture. These objectives were based on the assumption Aboriginal cultures and spiritual beliefs were inferior and unequal. Indeed, some sought, as it was infamously said, "to kill the Indian in the child." Today, we recognize that this policy of assimilation was wrong, has caused great harm, and has no place in our country.