Until now, scientists had to kill insects to see what was going on inside. But now, biologists and imaging specialists from Western University have teamed up to find a novel way to see their insides while they are alive.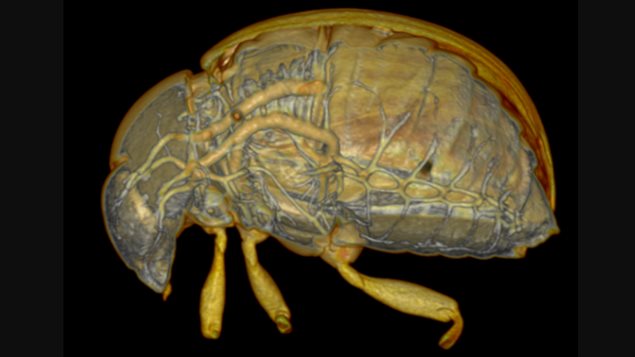 Insects are put into sleep-like state
The technique involves using carbon dioxide to put bugs into a temporary state of suspended animation or a sleep-like state. They can then be scanned by microcomputer tomography which uses X-rays. The process does not harm them as insects can withstand low-oxygen environments and high doses of radiation.
Biophysicist Danny Poinapen worked with insect biologist and doctoral candidate Jonanna Konopka to help her find a non-invasive way to examine the life-cycle of live insects. She was interested in studying Colorado potato beetles and true armyworms which are pests that can devastate crops across North America.
Listen
No need to kill specimens
Konopka says she was awed by the new method: "If we look at a developing insect, we can see how all the organs develop. We can see their reproductive systems developing. We can also see, for example, if they have mated or not. Normally, all these things would require us to kill the insect before we can see that."
The method was published in the journal BioMed Central and can be used by other scientists wishing to study the inner workings of insects.