Canadian food is as wide and varied as the many people who now make this country home.
But for Elizabeth Baird, who has been writing about food and working on cookbooks for over 40 years now, the roots of several of our favourite things to eat, and the traditions around them continue to fascinate her.
"I'm just amazed at how these things continue to resonate in the present and they go way back to when the first inhabitants created these, or nurtured these particular ingredients or recipes along." Baird says.
Listen
Corn, for example, which people are enjoying fresh from the farm these days across much of southern Canada.
Baird describes it as the signature of the summer. All manner of gatherings and festivities are organized around corn roasting or boiling, as the summer comes to a close.
Baird explains how corn was brought from Mexico, perhaps a thousand years ago, and the First Nation practice was to grow it as one of the "Three Sisters".
This was the practice of growing corn, squash and beans together.
"They supported each other, because the corn grew tall, and the squash which grew under it, the leaves could keep the moisture in the soil, and the squash could climb up the corn, the beans could also climb up the corn but what they did is they provided the nitrogen that fertilized the corn, because corn always requires a lot of nutrients." Baird explains.
And the combination made for a great soup that now often has salt pork added it to it, as the pork was one of the ingredients distributed to First Nations in the more recent era of life under the Indian Act.
Then there's maple syrup. First Nations people would look for the Sugar Moon, the full moon in March that would be an indication the sap was probably running in the trees.
Now maple syrup is used in so many recipes and meals in Canada. But people gathered then, just as they do now at what's known as the Sugar Shacks in eastern Canada, for the celebration that marked the end of winter.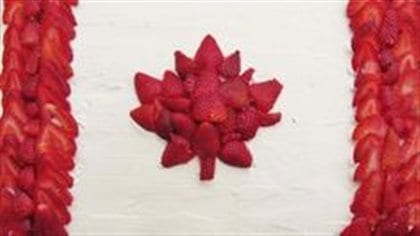 And then there are strawberries. After maple syrup, strawberries were the first thing that was fresh and edible and delicious, Baird explains.
The strawberry socials that take place across Canada where all manner of the fruit is served, originated in native celebrations for this leader of the berries.
Elizabeth Baird is trying to get strawberry shortcake recognized as the official Canada Day desert.
The red and white colours evoke our flag, which can be created in cream and strawberries everywhere on July st. And the occasion coincides with strawberry season.
Elizabeth Baird was honoured for her life's work four years ago with the Order of Canada. She was delighted with the experience and amazed at the meal that was served at the Governor General's residence on the gala occasion.
"I think they touched, in some way, almost every natural ingredient in season, that could possibly have been found in Canada at that time, both in the drink and the food, so it was an impressive meal and for someone like me who's very interested in all of that kind of, where things come from and what their history is, it was a quite a delight."