Last week's terrorist attack in Barcelona had the intended effect of striking fear into people, but a former intelligence operative says it is important to resist that response. Mubin Shaikh also thinks the tactic of ramming vehicles into people on busy streets will eventually recede.
Listen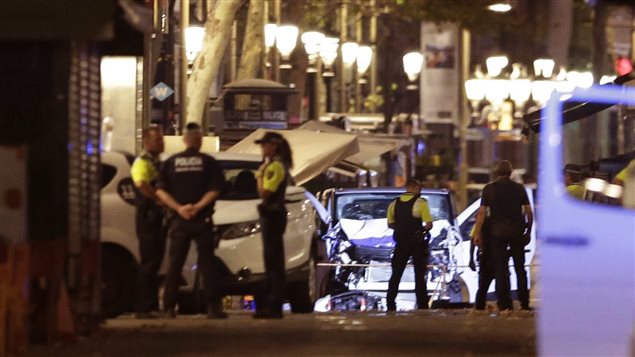 Fear is normal in spite of statistics
It's normal to feel fear in the face of such events, says the former agent with the Canadians Security Intelligence Service and the national police force, the RCMP. But he notes that statistically speaking, more people are killed by falling furniture than by terrorism.
While it may be difficult to control the visceral reaction we have to terrorist attacks, Shaikh says we can manage what happens subsequently: "It's what we do with those feelings. Do we fall into the hands of the adversary? Do we engage in divisive rhetoric? Do we…not travel? Do we not spend money? That's really what it comes down to, our response, to determine whether they're (the terrorists) are winning or not.
'Repudiate extremists,' says expert
"I think what shows we're winning, or we're in a better situation, is the large number of people that come out in public rallies to repudiate and reject these extremists."
The 24-hour news cycle makes terror attacks more visible. Shaikh acknowledges it is difficult for media to balance people's desire to know what's going on and yet not be a "force multiplier" for these groups by endlessly running video of people screaming and crying.
'More of us than there are of them'
Shaikh says ISIS used to frequently run videos of beheadings on social media but has mostly stopped doing so as they eventually had less impact. He suspects the same thing may happen with this tactic of using of vehicles to mow down people on busy streets. In the meantime, he suggests standing up to terrorism is the best tactic:
"These public displays of repudiating hatred whether it's white supremacists or so-called jihadists…and even prospective recruits, for us to show them that you will be shunned by society, you will lose your job if you engage in these sorts of things…
"It is very important for us to see it, the public takes comfort from it, and rightfully so because at the end of the day there's a lot more of us than there are of them."