Skip Prokop, the drummer, vocalist and co-founder of Canadian rock band 'Lighthouse', died yesterday at the age of 73.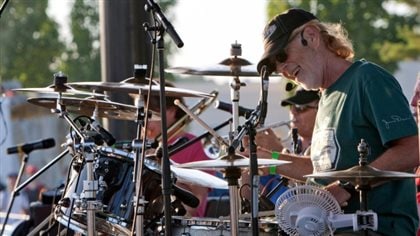 Prokop and Paul Hoffert started Lighthouse in early 1969 with a vision and the sound of a "full orchestra" in mind, incorporating horns and strings into the rock format.
Eventually, the 13-piece band was known for major hits like 'One Fine Morning' and 'Sunny Days', but Canadian fans can list a lot more. And most were written or co-written by Prokop.
The band had been invited to Woodstock, the ultimate concert of the 1960's, but they turned it down, one of Prokop's biggest regrets, he told Joe Belanger in an interview with Joe Belanger of the London Free Press in May 2016.
They went on, however, to play the even bigger gathering the following year on the Isle of Wight.
The line-up included Jimi Hendrix, Miles Davis, Jethro Tull, Ten Years After, Chicago, The Doors, The Who, Emerson, Lake & Palmer, The Moody Blues, Joan Baez, Free, Joni Mitchell, Leonard Cohen, Kris Kristofferson, Donovan and John Sebastian, playing for the crowd of 600.000.
"During the festival, they hand out ballots to the audience who vote on which bands they'd like as headliners to perform the final night. They voted for Jimi Hendrix and Lighthouse," Prokop told Joe Belanger.
Lighthouse won Juno Awards three years in a row: outstanding performance of the year in 1972. vocal instrumental group of the year in 1973, and group of the year in 1974
Prokop grew up in Hamilton, Ontario, about 60 kilometres west of Toronto.
Prior to Lighthouse, Skip Prokop was in The Paupers, a psychedlic Canadian band of the '60's.
As a session musician he worked with artists like Peter, Paul and Mary, Carlos Santana and Janis Joplin.
Prokop also wrote I'd Be So Happy, from Three Dog Night's 1974 album Hard Labour.
Lighthouse continues to perform, with Prokop's son Jamie Prokop now behind the drum kit.
With files from the London Free