British Columbia wildfires, several still burning, made this summer history-making with the worst wildfire season since records were kept.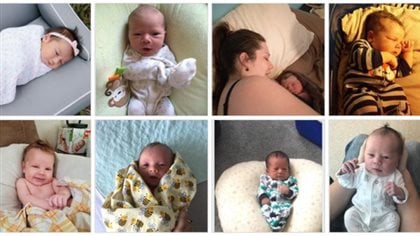 And it led to the creation of  the recently-formed "Summer 2017 Fire Babies" group.
"these mothers would want other woman to talk to and compare"
What the babies share in common is the fact that their mothers are all from the interior of the province, and they were all out of their homes when they gave birth.
Amy Emery, of 150 Mile House, gave birth under an evacuation order, and the experience made her want to meet other women in the same situation.
"It was an amazing birth story," Emery said.
"But is was kind of hard. So I figured, like, these mothers would want other woman to talk to and compare notes and compare stories with."
Emery was due August 2nd, but on July 6th, convinced her water had broken, she checked into the nearby hospital.
The fires in this region began on July 7th, 2017.
Emery's wife, Danielle Biggar collected their dog and two cats, and their two brothers and they headed to Prince George.
It was before the evacuation order was issued in 150 Mile House, but it wasn't easy being homeless.
"The first day we got to Prince George there was hardly anything available so we stayed in a one-bedroom hotel room for two nights and then through a Facebook page were offered a place to stay by Elissa Meiklem," Emery said. "We stayed there for about 25 days and then we went to a friend of hers, Sue Judge, that was going to be gone for a month."
Emery gave birth to ab eight pound,15 ounce baby boy on August 10th, at l:25 p.m.
"I made jokes after our son Carver Emery was born, saying all the little fire babies should get together when they get older and start a rock band," Emery told Monica Lamb-Yorski of The Williams Lake Tribune.
"After that I started thinking about all the people that did have babies and seeing posts on Facebook and thought we should actually start a group and get together."
Shaylene Dahl loved Emery's idea to create the Summer 2017 Fire Babies group.
"I was thinking myself that I would like to get together with some other fire babies," she said. "It was a pretty exciting time."
Dahl's son, Thomas Asher Ziggy, will grow up with friends that are fire babies and they will have unique stories, she added.
"It was not the ideal way that we wanted to welcome him into this world, but it will still be a really cool story to tell him. That's why his middle name is Asher."
There is now significant rain in the forecast for British Columbia.
With files from CBC and The Williams Lake Tribune