53 % say no
Most people, including Canadians, don't realize that Canada is a major exporter of military hardware abroad, in fact one of the top ten 10 exporters of military and defence technology in the world.
In light of those exports, a great deal of political controversy has arisen within Canada in recent years over Canadian arms sales to foreign countries with dubious human rights records.
Recently the Trudeau government has come under severe criticism for allowing a former Conservative government deal with Saudi Arabia to go ahead.
The multi-year $15-billion deal was for the latest models of Light Armoured Vehicles (LAV) which can readily be weaponized.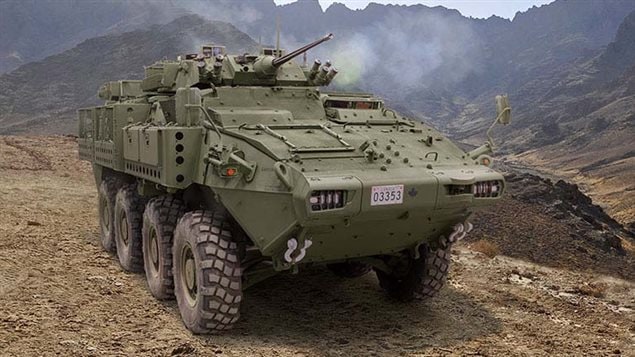 The Liberal government is under fire as the deal would seem to be violating Canada's weapons export-control rules which call for restrictions on arms exports to any country with a "persistent record of serious violations of the human rights of their citizens."
Recent events seem to indicate that Canadian made armoured vehicles might have been used against a civilian population in Saudi Arabia.
A survey just released shows a slim majority of Canadians say that it's not our responsibility for what happens to defence technology sold abroad.
The Angus Reid firm found 53 per cent of Canadians polled feel that way.
Interestingly a greater majority, 62 per cent said Canada shouldn't be selling armaments to Saudi Arabia in the first place, and yet the same poll showed that only 40 per cent would cancel the $15 billion 15 year deal.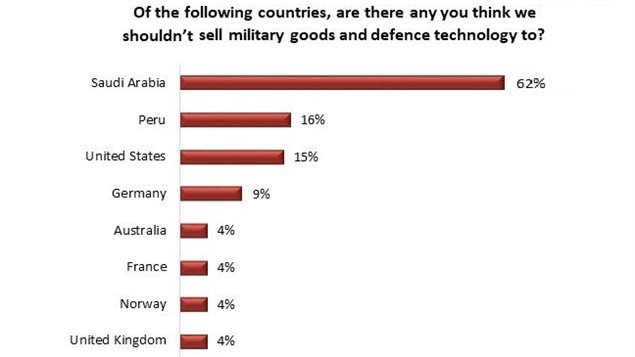 The survey also showed that most Canadians aren't aware of the level of Canada's military exports. Just one in ten know Canada is one of the top ten exporters of military technology in the world. Some 48 per cent think we're somewhere in the 11th– to 20th range, while 42 per cent think we're not even in the top 20 military exporters in the world.
A poll by the Nanos firm for the Globe and Mail newspaper in July of 2016 found that 59 per cent of Canadians opposed the Saudi deal with an additional 14 per cent saying they were somewhat opposed.
That Nanos poll also showed 55 per cent were opposed to arms sales to China and 60 per cent opposed to arms sales to Algeria.
Peggy Mason, is president of the Rideau Institute an independent public policy advocacy group with emphasis on foreign policy and defence. She once served as Canada's UN ambassador for disarmament and is quoted in the Globe article saying, ""Canadians will be very concerned and wondering if providing weapons to despots doesn't fly in the face of Canada working constructively for international peace and security".
According to Jane's Defence Weekly, Canada is now the second biggest arms exporter to the Middle East on the strength of the LAV sales to Saudi Arabia.
Additional information-sources