MosaicCanada 150, is the gift to Canadians from three levels of government, 600 volunteers, and the visionary behind the team that created the exhibit.
The federal government, the provincial government of the French-speaking province of Quebec, and the city of Gatineau, contributed to make the event open with no charge to visitors.
The plants are full and the autumn light is beautiful
Lise Cormier, founder of Mosaïcultures Internationales, is very proud of the result.
She began evolving into this field of landscape design over 30 years ago in Montreal.
Listen
Now her horticultural creations are recognised in more places around the world as demand grows for similar works.
On the banks of the Ottawa River, in Canada's National Capital Region, the sun is setting on MosaiCanada 150.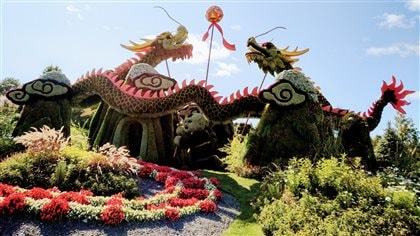 Jacques Cartier Park, in Gatineau, Quebec, directly across from the Parliament Buildings in Ottawa, Ontario, is the scene of the horitcultural exhibits, where flowers and plants are the raw material for amazing sculptural creations.
Lise Cormier, the landscape architect who started it all, says she and her team are recognized as world leaders in the field.
She says these last two weeks, until the park closes on October 15th, are perhaps the best opportunities to view the works, since they opened on June 30th, 2017.
The plants are full and the autumn light is beautiful she says.
Among the exhibits are two gifts from the cities of Beijing and Shanghai in China.
Lise Cormier says she has had a very long and special relationship with colleagues in the same fields in these cities.
They too are now world-leaders in this field of horticultural design and creation, she says.
"They wanted to celebrate with us, to show their friendship with us, with the Canadian population," Cormier says.
They wanted to wish us luck, prosperity and peace she explains.
Cormier was very appreciative of the contributions. "We must not forget that it is the Chinese who built the railway across Canada." Cormier says it was a beautiful testimony for us, for Canada.
Cormier is very proud of the way the entire exhibit has been received by Canadians and tourists alike. More than a million people have taken the walk.
She enthusiastically credits the teams assembled to consult on the exhibits and to chose the works, including the First Nations exhibits, acknowledging the Algonquin and Abenaki peoples who were the original inhabitants of the land.
As for what will happen now, Cormier says "that's the million dollar question".
A recent petition, has circulated collecting over 20,000 signatures, requesting that another exhibit be installed in the park for 2018.
In the meantime, a "Winter Show" could be created using the current larger exhibits, once they're reinforced, and lit for experience.