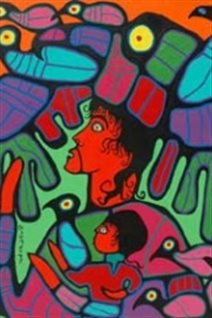 Norval Morrisseau's style was characterized by thick black outlines and bright colours.
One prominent Canadian, Kevin Hearn, of the Canadian band, the Barenaked Ladies, is accusing an art dealer of selling him fake Morrisseau paintings. 
According to CBC News, a lawyer in Toronto says an art fraud ring is working out of Thunder Bay, Ontario, and he will prove it in court.
Hearn and singer John McDermott were originally suing Joseph McLeod and the Maslak-McLeod Gallery, for allegedly selling them fake Morrisseau paintings.
McDermott dropped his lawsuit in the meantime.
Hearn's case is scheduled to be heard next week, according to his lawyer, Jonathan Sommer. 
We'll follow the developments in court.
Norval Morrisseau died in 2007.
With files from CBC