Your hosts, Lynn, Marc, Terry (video of show at bottom)
Listen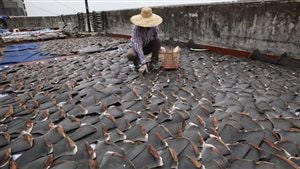 University of Guelph in Ontario has a unique reference "library".
It's a data base of DNA of hundreds of species, mostly fish and marine species.
It's used when an unidentified sample of fish needs to be identified.  The DNA sample is taken and run through the "DNA Barcode" database to find a known match.
Recently it was used to identify shark and ray species from fins and gills taken from markets in Canada, China, Hong Kong and Sri Lanka.
They found several instances of species at risk, and even fins from the internationally banned whale shark.
Marc spoke to professor Dirk Steinke of the University of Guelph
*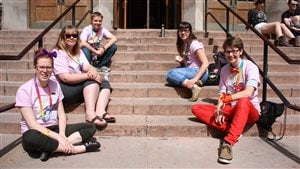 A non-profit group known as Egale Canada (French for "equal") works to improve the lives of LGBT youth.
A survey it conducted in 2012 showed that many of these people did not feel safe at school
As a result Egale launched a number of initiatives at schools across the country to try to improve conditions for these young people.
The organisation is now planning another survey to see if these initiatives have worked, and to what extent.
Lynn spoke to Helen Kennedy, executive director of Egale Canada.
*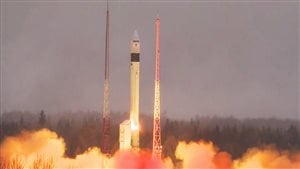 The Inuit of Canada and Greenland are upset and worried about a space launch from Russia.
The concern is the European satellite being launched is aboard an old military ballistic rocket, converted from carrying nuclear warheads, to research satellites.
The concern comes from the highly toxic fuel used in the old model rockets.
Experts say that not all the fuel is used in the launch and some will be spread in the atmosphere and even remain aboard when the booster stages return to Earth and crash into a highly sensitive marine area between Nunavut and Greenland.
Levon spoke to Arctic issues expert Michael Byers