Shares in Canada's Bombardier Inc. jumped more than 20 per cent after the company gave up controlling interest in its mid-range C-series jet program to Europe's Airbus Group. No money changed hands and Airbus will not assume Bombardier's big debt.
The deal will put Airbus in the driver's seat, says Karl Moore, associate professor at McGill University. And that, he adds, is good for the C-series jet program, good for Bombardier, the province of Quebec and Canada.
Listen
C-series to benefit from big sales, service forces
"Why it is good is because Airbus brings a global sales force that knows almost all airlines in the world…Those sales people and the service people that Airbus has around the world will be out there selling and later servicing the C-series which makes it much more attractive. And there'll be a lot more marketing oomph and sales oomph to the C-series than just with Bombardier alone."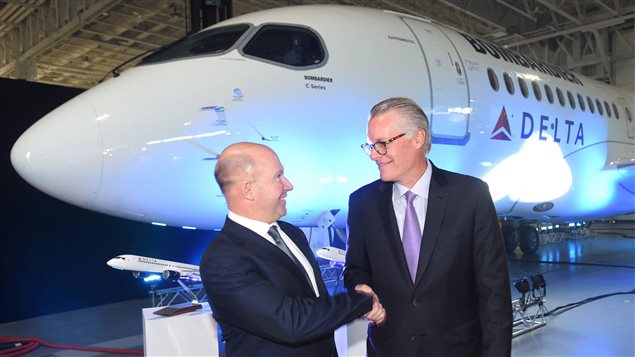 Deal could nix U.S. duties on jets
The deal will likely help Bombardier overcome the recently-announced U.S. plan to impose a 300 per cent preliminary duty on these jets. Airbus has an assembly line in Alabama in the United States. Moving the final assembly of these planes there would help U.S. customers avoid the duties. This is huge given that 30 per cent of the potential market for C-series jets is in the U.S.
This "should relieve the considerable amount of concern of the U.S. government and it allows the Trump administration to say they're creating jobs in America," says Moore.
No job cuts in Canada
That should not mean job cuts in Canada. Parts of the jets will still be made here and more marketing and sales would mean more production overall. The C-series project headquarters will remain in Montreal.
The government of the province of province of Quebec has invested one billion dollars into Bombardier and under this deal will see its share of the C-series program drop from from 49.5 per cent to 19 per cent. Bombardier will retain 31 per cent and Airbus will acquire 50.01 per cent.
'The future looks much brighter'
Still, Moore thinks it is a good deal for Quebec taxpayers. "My view is that it's better to have part of a big pie than a large part of a very small pie. And it's going to be a bigger pie because the opportunity is much greater for sales for the C-series than it was before this deal…
"We may be losing something but the future looks much brighter today than it did two days ago."
The deal must be approved by the Canadian government.