The Google Brain Team was established in Montreal in 2016, with Hugo Larochelle as its lead.
Larochelle, also an adjunct professor at the University of Montreal, is comfortable defining this cutting edge field of study and development.
Listen
He describes artificial intelligence (AI) as, "a set of technologies that is trying to give computers abilities that we will intuitively associate with our own intelligence."
Larochelle says AI is already at work in our technologies, such as Google Translate for example, or some of the voice recognition applications in our phones, or the object recognition at work in how we may organise photos in a cell phone.
"It's a really exciting and really open community right now within AI in Montreal"
But there are things that we can't easily program, such as a text editor for example, and it is this next step that is the challenge.
Montreal has been at the heart of a type of AI approach known as Deep Learning, and there's been a lot of progress within it over the last 10 years.
A former Ph.d student of Yoshua Bengio's at the University of Montreal, Larochelle credits Bengio, and his pioneering work in AI, researching artificial neural networks.
"It turns out that this type of approach to AI has really made large leaps forward in various applications such as speech recognition, and object recognition and machine translation so some of these breakthroughs have been happening here in Montreal, in Yoshua Bengio's lab."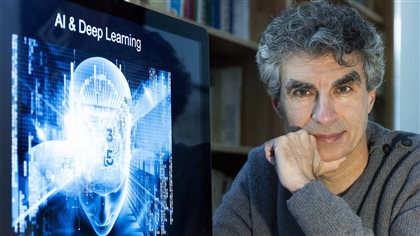 And it was Bengio's love of Montreal that had industry coming to him.
"Yoshua Bengio was adamant about staying here and not going to industry" Larochell says.
As a result Bengio's lab grew to include as many as 200 researchers which indluded students and professionals.
Larochelle says that with a talent pool like this it made sense for Google to establish a base.
He was happy to return to his home base in Montreal after stays in Sherbrooke, Quebec at the University there, and in Cambridge in Massachusetts in the United States, working on a start-up that was eventually bought by Twitter.
Now Larochelle says he appreciates the opportunity to give back,
"I do feel like I owe a lot of my career to Montreal, so this opportunity of being involved in creating opportunities for new Ph.D students, like me, who have done, or are doing their Ph.D studies in Montreal  but now unlike me, would get an opportunity to actually do research in industry in Montreal.
And some former students and colleagues of Larochelle's are returning to Montreal to join the Google Brain Team."
He says there are other colleagues, such as Joelle Pineau at McGill, who was recently hired to head Facebook's AI office in Montreal.
She specialises in an area called "Reinforcement Learning" which is complimentary to Deep Learning.
Until now, Montreal's AI breakthroughs have been useful in healthcare, particularly the application of developments in deep learning to medical imaging.
"Providing tools for doctors to automate part of the process of analysing medical imaging and images, such as images of someone's brain and identifying whether or not there's a tumour in it." Larochelle says.
Montreal provides a very collegial atmosphere with several collaborations. "It's a really exciting and really open community right now within AI in Montreal." according to Larochelle.
He cites the first Montreal AI Symposium he co-organised in September. Registration filled up immediately and brought 300 researchers together with industry players and students.
Larochelle hopes it will become an annual event.