Prime Minister Justin Trudeau had a Halloween surprise for the parliamentary press gallery when he showed up for question period today.
Trudeau sported wide-rimmed spectacles, slicked-down hair and a blue suit with a bright red tie as he descended stairs in Parliament's Centre Block.
As he got to the bottom of the stairs, he opened his shirt to expose the Superman costume hidden underneath.
Clark Kent – AKA Superman (@JustinTrudeau) arriving in the House #HappyHalloween2017 pic.twitter.com/s9xP5CvLj7

— Patrick Morrell (@PatMorrell_CBC) October 31, 2017
Prime Minister Clark Kent has a ring to it, doesn't it?
Or maybe Trudeau simply hoped the Superman's costume he wore under his shirt would help him face the question period in the House Commons and would give him some superpowers to dodge opposition questions on conflict of interest dogging his government.
Trudeau, who has a penchant for wearing colourful socks, has never shied away from having fun with Halloween.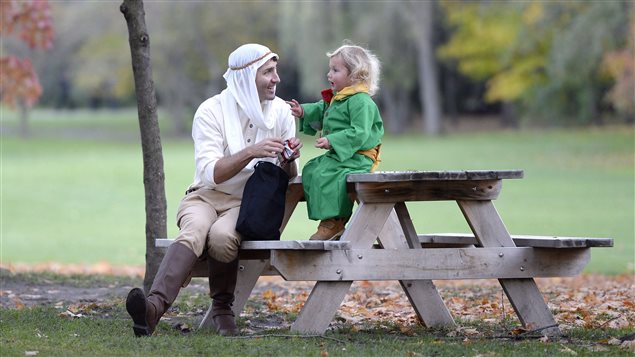 He dressed up as Han Solo of "Star Wars" fame for his first year in office.
Last year he went trick-or-treating as a pilot from the French children's book "The Little Prince," while his youngest son, Hadrien, went as the book's protagonist.
Trudeau wasn't the only MP in the House getting into the Halloween spirit.
Liberal backbencher Robert-Falcon Ouellette sported a blood-spattered white suit during question period, a costume he described as a "Bloody Harry" outfit.
With files from The Canadian Press