Prime Minister Justin Trudeau and his special envoy to Myanmar, Bob Rae, met with the country's de facto leader Aung San Suu Kyi on the sidelines of APEC trade talks in Vietnam on Friday amid a deepening crisis affecting the Rohingya Muslim minority in Myanmar.
Over 800,000 Rohingya's have fled to neighbouring Bangladesh following a brutal crackdown by Myanmar's security forces and mobs of Buddhist vigilantes in what the United Nations has called "a textbook example of ethnic cleansing."
The 45-minute meeting before the start of the APEC leaders' summit in Da Nang was arranged to discuss a possible way forward on the Rohingya refugee crisis in Myanmar's Rakhine state .
"Given Canada's commitment to the promotion of pluralism and humanitarianism, Prime Minister Trudeau conveyed Canada's ongoing deep concern for the situation facing Rohingya refugees," said a statement by the Prime Minister's office.
Rae told reporters after that Trudeau was forthright about the level of violence and the extent of the problems causing people to flee.
"From my point of view that was extremely important for her to hear, directly from Canada's prime minister.  I think it was also important for us to hear her out," Rae told reporters.
"From her perspective, she's doing what she can in a difficult circumstance. I think it's fair to say that we feel that more needs to be done and more could be done."
The meeting comes as Myanmar faces allegations of large-scale human rights abuses against the Rohingya Muslim minority population in the predominately Buddhist nation.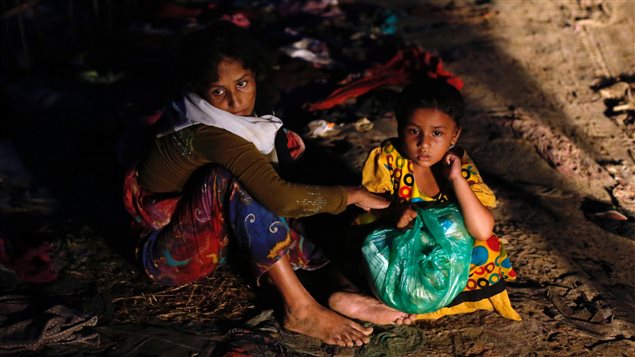 While there are questions about how much real power does Suu Kyi have over Myanmar's powerful military, the Nobel laureate and honorary Canadian citizen has faced withering criticism for her failure to speak out against the violence.
Quebec-based human rights activist Fareed Khan, whose petition to revoke Suu Kyi's honorary Canadian citizenship has received over 44,000 signatures, called on the Canadian government to take decisive action.
"While Canada and other nations have been taking a soft and slow diplomatic approach to dealing with the crisis since the story broke in September, tens of thousands more members of the Rohingya minority in Myanmar – including young children and babies – have been massacred in the most brutal ways, untold numbers of Rohingya women have been sexually violated and gang raped by Myanmar forces, and now more than a million Rohingya refugees languish in Bangladesh," Khan said in a statement.
"To the dead and the survivors, talk and diplomacy is meaningless in the face of such horrors," Khan added.
The human rights campaigner is also calling on Ottawa to prosecute Suu Kyi using the provisions of Canada's Crimes Against Humanity and War Crimes Act.
"Because of her complicity in crimes against humanity and genocide it is now about using all the legal tools available to Canada to bring Suu Kyi, and the military leaders of Myanmar who perpetrated the horrific crimes committed against the Rohingya, to justice," Khan said.
With files from CBC News