Time management changed Brad Aeon's life.
Now he is devoting his PhD research at Concordia University's John Molson School of Business to building on his insights into how it can be best implemented to help others.
"Getting better at getting better"
Aeon thinks training to improve time management skills, is best achieved on a one on one basis, expensive for businesses he acknowledges, but worthwhile.
Listen
For him, it was a book he read as he was finishing his undergrad degree that made the difference.
"I was a very disorganised person, always late, and I just wanted some way to be less… all over the place," Aeon remembers.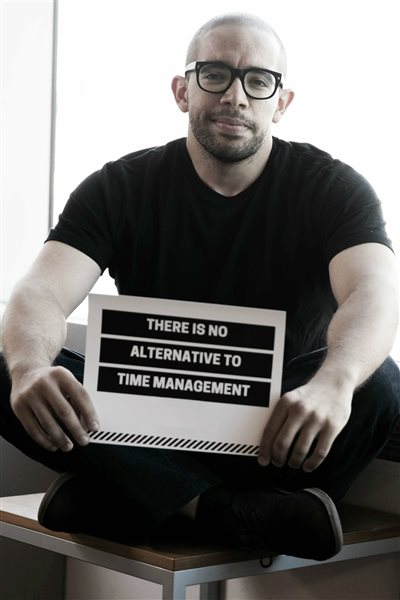 "And now I think I'm a radically different person from the person I was 10 years ago."
He is so good at managing his time, that he's coached others and witnessed their success.
He thinks of time management as "the mother of all skills", he says.
"Because to acquire other skills you need time, and so you need to make time to acquire other skills and one of the best ways to do that is to get better at time management, so time management, in a way is about getting better at getter better."
One of Brad Aeon's paramount tips is to reduce digital distractions. While this may sound like common sense to many, Aeon says it verges on radical, to others.
"Sleep plays a huge factor"
He advises people to shut out facebook, skype, twitter, and e-mail.
He himself shuts his cell phone off from 11 pm, to 5 pm the following evening, limiting access to his cellular device to just six hours a day.
"Sleep plays a huge factor." Aeon says.
"Because I sleep really well, and the people that I know who manage their time really well, sleep reasonably well. They sleep between seven, eight, sometimes nine hours per night, and that really helps them to recover, to be more focused the next day instead of just being exhausted all the time." he says.
"I think working while being exhausted is just very counter-productive."
Aeon talks about the "psychology of time", the fact that it's not a one-size fits all reality and people have differing experiences of time.
"And it's not just cultural," he says.
"It's not just from one country to another, sometimes the same people within one culture can have very different approaches to time: some people like to mono-task, some people like to multi-task, some people are very aware of their time, some people just think that time is this big thing out there that doesn't need to be budgeted."
These broad variations are the basis of Aeon's contention that time management training should be customised.
Decision-making is an area of particular interest to Aeon these days.
The way people think about time is very different from the way think about money, and it is this gap Aeon wants to study now.
As for creativity and the connection to time wasted, Aeon says it's a myth.
"The most creative people are actually really good at time management. They're extremely organised."
So in 2018, if you want to maximise your time, Brad Aeon has three top tips: shut off the digital distractions; get good sleep, and drop the perfectionist tendencies.
.