Who's the toughest Iditarod musher — and why?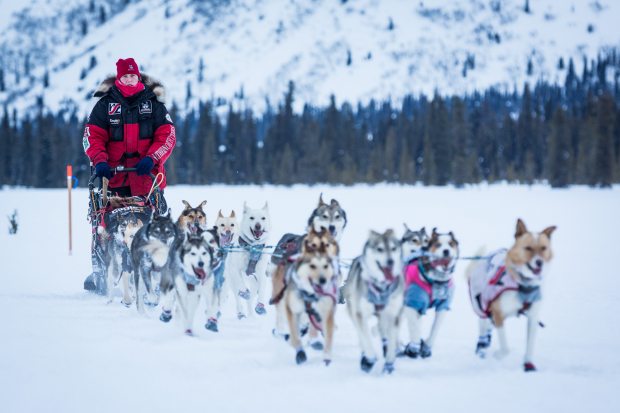 PUNTILLA LAKE – As mushers on the Iditarod Trail Sled Dog Race make their way to the Rainy Pass checkpoint and beyond, thoughts are focused on one thing: toughness.
The section of trail, which includes two technical traverses including the fast and steep Happy River steps and perilous ice bridges dotting the Dalzell Gorge — is known for leaving mushers with broken ribs and black eyes. If they can make it through, it's on to the barren Farewell Burn, where mushers are battered by gnarly terrain and tussocks.
So amid the chaos of the trail, what makes a tough musher?
Is it about surviving the elements or something more? Is it answering the physical demands? Is it the strength of will or winning the battle of the mind? Or is it just about getting to the starting line?
Ask the mushers, and they all have their reasons for who they think is toughest — and why. The reasons are varied and at times a little abstract. But there's no denying one thing, no matter where they finish, it's safe to say all mushers are tough.
Lance Mackey
The four-time Iditarod and Yukon Quest champ is the overwhelming favorite as the race's toughest competitor based on an Alaska Dispatch informal poll of mushers at the pre-race banquet and Saturday's ceremonial start.
Throat cancer surgeries left the legendary Mackey, 42, without salivary glands and many of the muscles in his neck. Nerve damage from the surgeries in his left middle finger required its amputation.
Despite it all, the lean and compact Mackey rallied, driving a super team of dogs to eight 1,000-mile race championships. Despite a recent decline (Mackey finished 22nd in the 2012 race), many still consider him to be the king of tough mushers.
"The stuff he's overcome — that makes him the toughest," said 2012 Iditarod Rookie of the Year Brent Sass of Fairbanks. "No matter where he places or what he does on the trail."
Ramey Smyth
There's something of a joke among mushers that if you're headed to the finish from White Mountain — just 80 miles from the finish line — and you've got Ramey Smyth less than two hours behind, you're in trouble.
But it's no joke, really. Known for slipping out of his winter boots and into sneakers near the end of the race, Smyth, 37, has had the fastest run time on the 22-mile home stretch from Safety to Nome — for seven out of his 16 Iditarods. In 2012, Smyth surged from 40th place midway through to finish third.
"He's kind of an animal," said Ken Anderson, a 12-time finisher, four of which were in the top 10. "To his core, he's a dog man. Mushers respect and fear him."
Some say this is the year the musher from Willow finally makes his move to the top of the heap. Only time will tell.
Aliy Zirkle
It's been more than two decades since a woman won the Iditarod, but last year Aliy Zirkle came very close.
Zirkle, 43, seemed poised to take the title, leading for much of the race. But she wasn't able to hang on long enough to keep Dallas Seavey from catching her on the coast.
It has been a steady climb for the veteran dog driver, who has focused all her energy on winning the Iditarod since becoming the first woman to win the 1,000-mile Yukon Quest in 2000.
Zirkle's toughness comes through her competitive spirit. She's meticulous and smart about mushing, usually sticking to and executing a thoughtful race plan. It may seem like a cliché to call her dog team a "well-oiled machine," but it fits. "Aliy doesn't just work hard, she works smart," said veteran Jodi Bailey. "It's amazing the intelligent research and science she puts into training."
Mike Williams Sr.
Mike Williams Sr. isn't a name you'll see in any Top 10 lists. Despite a lifetime of mushing, and 14 Iditarod finishes, Williams has never placed higher than 18th.
But what he lacks in trophies, he more than makes up for in spirit. Williams races in honor of his Yup'ik heritage. While young Alaska Native mushers — including his son Mike — have started to mount a resurgence in the sport, the elder Williams has an enviable record of continuity.
Josh Cadzow, 23, spent time training with Williams this winter in Aniak. Cadzow, an Athabascan from Fort Yukon, considers Williams a mentor. "You've gotta be tough to be doing this all these years," Cadzow said.
Another bit of toughness? Williams sat out for three years to give his son the opportunity to race. It paid off: The younger Williams placed eighth last year.
John Baker
An Iñupiat from Kotzebue, John Baker's 2011 Iditarod win was a watershed moment for the race. Not only did Baker, now 50, crush the speed record, he became the sport's first Iñupiat champion.
Baker is known for his big, strong dogs. They might not be the speediest, but they're steady and they thrive on less rest than the rest of the competition.
They get that from the training conditions. Baker trains in Kotzebue, on Alaska's northwestern coast. The region can get battered with cold, windy storms. And, ultimately, that could be to his advantage. More than one Iditarod champion has braved fierce storms in the final push to victory in Nome.
Contact Suzanna Caldwell at suzanna(at)alaskadispatch.com
For more stories from Alaska Dispatch, click here