Sweden tackles plastic bag problem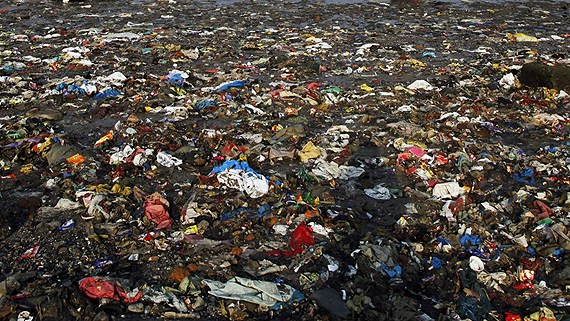 Grocery stores are putting a big markup on plastic bags, according to a recent report from Swedish Television's consumer programme Plus.
But if it is for environmental reasons, it is not making much of a difference, because most people say they wouldn't stock up on more bags if they were cheaper.
Back in the 1970s a shopkeeper in the southwestern town of Varberg started charging 25 öre, or about 5 cents, for a plastic bag.
Today, supermarkets in Sweden earn 430 million kronor a year selling plastic bags at the checkout, for people to load their groceries into.
Bengt Lundin, CEO of one of Sweden's biggest plastic bag manufacturers, says each plastic bag costs him about 40 öre to make. By the time a grocery store has paid for handling costs, the store has spent about 60 or 70 öre per bag. But stores are charging customers up to four times that.
Axfood is one of the big grocery chains in Sweden. Head of press Ingmar Kroon says:
"It's a balancing act. If it costs a lot more, maybe it would be better. Maybe then, people would be more willing to reuse the same plastic bag several times. But we haven't tested that," he says.
A reporter asks what he thinks is an appropriate price for a plastic bag, and Kroon answers:
"When they cost one-and-a-half or two kronor, it's so little that I don't think about it. What I think about is how many I've got at home. Maybe I should carry one in my pocket for when I'm out shopping," says Kroon.
In an SVT Plus survey of 1,000 people, 4 out of 5 said they wouldn't use more bags if they were cheaper.
And what about plastic bags and the environment?
Ignacy Jakubowicz is a plastics expert at the SP Technical Research Institute of Sweden, and he says people use too many plastic bags – that instead, it's best to use each one several times before using it as a trash bag.
At the same time, though, he says plastic is necessary when burning mixed waste ("blandat avfall" in Swedish), so that the temperature gets hot enough not to let any dangerous chemicals form in the combustion process.
According to Jakubowicz, plastic bags are not worse for the environment than paper bags. He says that life cycle assessments have shown that paper bags are in fact worse.
Jakubowicz says the bad thing about plastic bags is when they wind up floating around outside.
Then it takes at least 50 years for them to break down, and then the particles can get carried into the ocean, where they can hang around for hundreds of years.
Several countries have forbidden plastic bags, including Italy, which a couple years ago, became the first in Europe to ban them in stores and grocery stores.