Photographer's Finland images light up NASA website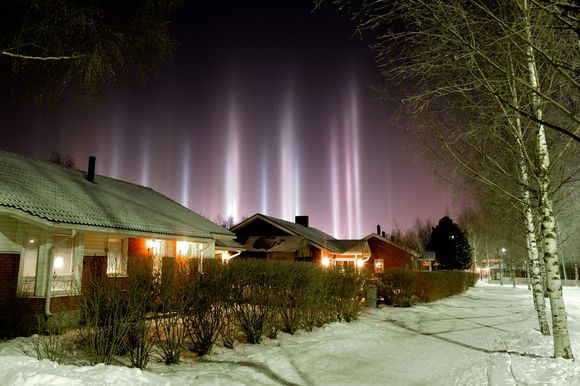 Oulu, Finland resident Thomas Kast succeeded in capturing astounding images of pillars of light apparently descending from the sky.
The eye-popping pictures were featured as "Astronomic Picture of the Day" on the website of the United States National Aeronautics and Space Administration (NASA).
Oulu resident Thomas Kast's picture of a particularly unusual display of heavenly lights was published earlier this week on the Astronomy Picture of the Day website maintained by United States National Aeronautics and Space Administration (NASA) and the Michigan University of Technology.
The site publishes daily images that represent the universe. Competition to be published on the website is stiff and there are many hopefuls vying for the honour.
Kats has also submitted previous images in the hope of being featured on the site, but his photos of the mysterious "pillars of light" reaching down from the sky finally gave him the breakthrough he was looking for. It was also the first time that the German-born Kats had seen such a clear aerial display in his 15 years living in Oulu.
"I have long hoped that someday I would make it. This is a big deal for me, and many people have congratulated me," he said.
Pillars easier to capture than Aurora Borealis
Kast first observed the shafts of light on his way to the shop to purchase cat food in Oulu's Kaakkuri district. He quickly set up his camera and proceeded to capture the remarkable phenomenon.
He was able to take photographs for ten minutes from two different locations as he attempted to get the best composition and angle for the pictures.
The sun pillar halo effect occurs above or below the sun, but in the right conditions artificial light may also create light pillars. In Kast's images, nearby parking lot and street lights provide the light source for his pillars.
"Lucky if you can see pillars"
Kast has seen sun pillars four times during the past three years. The Oulu resident said that they are easier to capture in photos than Northern Lights because they emit more light.
"Sun pillars appear in the sky when cold damp air rises off the sea. They can pass by quickly and you're lucky if you get to see them. Sometimes it happens only in a certain spot," he explained.
Kast has been a serious photographer for just under two years. His pictures have been published in publications such as the German magazine Geo and on the blog of the US news channel NBC.
Related Links:
Click here to see the photo on the "Astronomic Picture of the Day" website
Another photo by Finn J-P Metsäavainio of the Bubble Nebula was published on the site on December 14