Some Alaska industries increasingly staff out-of-state workers, report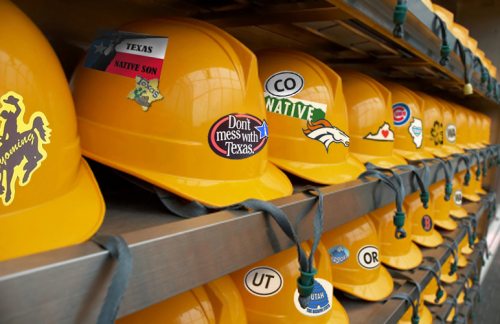 It's something that never fails to rile Alaskans — valuable in-state jobs going to Outsiders. More of those jobs are going to out-of-state residents, with non-Alaska workers snagging a growing share of jobs in such vital industries as oil and gas, mining and construction.
The trend, reported in a new analysis of the 2012 workforce by the state Department of Labor, wasn't across the board. For example, a larger percentage of Alaskans processed seafood, though about three-quarters of that workforce still comes from outside the state, performing seasonal and relatively low-paying jobs that many Alaskans don't want.
And health care was a bright spot. While the number of medical workers in Alaska has boomed over the last decade, to more than 37,000 employees in 2012, the share of Outside workers has remained largely the same, about 10 percent.
Construction hiring slump reversed
Alaskans make up about 80 percent of the state's 419,000 workers. But the share of nonresident workers grew by 2.4 percent in 2012, compared to the year before. Resident workers saw their ranks grow by 0.7 percent.
The data can help policymakers and residents prioritize vocational training, education and marketing to better target specific shortages in the Alaska workforce, the report notes.
The benefit for nonresident workers was especially notable in the construction sector, which ended a six-year hiring slump as the workforce grew to about 27,000. But more than three-quarters of the 976 new employees in that sector were from out of state. Their wages rose by 16.4 percent, compared to just 4.9 percent for residents.
The construction industry remains well below its peak workforce of just over 31,000 employees in 2005.
And the turnaround may be short-lived. The industry has been living off the fat of the state's huge capital budget in recent years, but Alaska has begun to put the brakes on spending. Some construction companies may begin to feel the squeeze later this year, said Jonathan King, principal economist with Northern Economics.
Construction companies that have aligned themselves with the growing oil and gas industry will do all right when the money dries up, he said. But firms still dependent on capital projects will be caught flat-footed unless the Legislature provides an unexpected boost in capital spending later this spring, he said.
Oil companies in Alaska have announced plans to increase spending this year following the huge oil production tax cut that became effective on Jan. 1, meaning the job growth in that small but well-paying industry is expected to continue.
The oil and gas industry employs fewer than 5 percent of the state's workforce. But with wages about three times higher than other jobs, the sector has a substantial effect on the economy, the report notes.
Nearly third of oil and gas workers are nonresidents
Oil and gas companies employed 17,501 workers in 2012, about 452 workers more than in 2011, a 2.7 percent increase. The percentage of Outside workers has grown since 2009, when they represented 28.1 percent of the industry workforce. In 2012, their numbers had grown to 31.6 percent.
The wages of non-Alaskans workers in that sector also grew faster in 2012. Of the $1.8 billion earned, Alaskans' wages rose 6 percent to $1.2 billion. Nonresident wages increased 9.1 percent to $540 million.
As for mining, the number of jobs in that sector grew rapidly, increasing by 13 percent to 3,580 in 2012.
The number of nonresidents was up 22.5 percent, from 1,115 to 1,366 workers. Resident workers increased 7.5 percent, or from 2,060 to 2,214.
Miners coming to Alaska for work also got paid more, earning an average of $23,542 each quarter — up 3.9 percent — while residents made $21,716 (down 0.9 percent), the report said.
Contact Alex DeMarban at alex(at)alaskadispatch.com
Related Links:
Canada: Teachers nix jobs in North Canada due to housing, CBC News
Finland: Visa-free Russian border 'would create thousands of jobs' in Finland, Yle News
Norway: Swedes find jobs in neighbouring Norway thanks to oil boom, Radio Sweden