Putin ensures Arctic militarization will not harm polar bears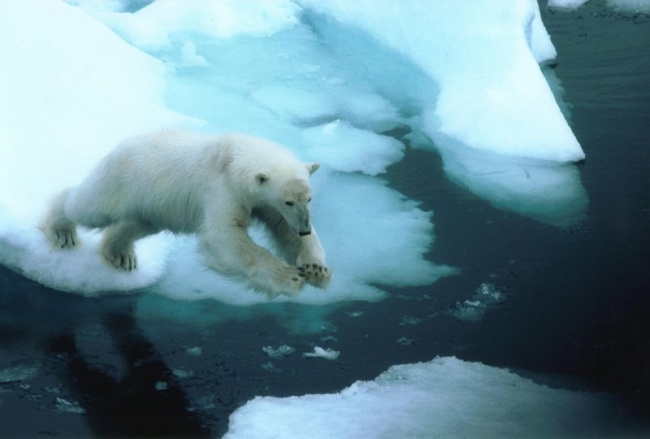 Environmentalists fear the Defense Ministry's new military bases can pose problems for polar bears.
The Russian President is publicly known for advocating protection of polar bears. He even runs a dedicated site for the polar bear programme at his Kremlin portal.
This week, Putin assured Greenpeace that he will look into how justified it is to fear that the new military bases on the Wrangel Island would harm the polar bear population.
Director of Greenpeace Russia, Sergey Tsyplyonkov, discussed the issue with Putin at a meeting of the Human Rights Council, TASS reports.
In September, Greenpeace sent a letter addressed to the Chief Military Prosecutor complaining that a hundred marines and paratroopers from the Eastern Military District landed on the nature reserve on the Wrangle Island.
As BarentsObserver reported, Russia's new Arctic base includes a tactical group equipped with missile systems, including anti-aircraft defense, a radiotechnical unit, as well as a material and technical supply unit.
A group of naval vessels from Severomorsk sailed into the area this autumn.
"As far as construction work on Wrangel Island is concerned, it all has to be checked. Hasn't there been a military base there ever before? Putin asked Greenpeace leader Tsyplyonkov.
Wrangel Island is one of the most important maternity homes for polar bears.
"Carrying out military exercises in the reserve is a flagrant violation of Russian law. After all, it is not even allowed to enter the nature reserve without permission from the Ministry of Environment," argues Greenpeace in the letter to the Military Prosecutor.
Vladimir Putin's interest for polar bear and Arctic environmental cleanup was widly broadcasted when he visited Franz Josef Land in 2010.
Related stories from around the North:
Canada: Star of acclaimed Inuit-language film shoots polar bear in self-defence, CBC News
Norway: Arctic Norway needs polar bear spotter, The Associated Press
Russia: Scientists raise alarm over Russia's ice-free Kara Strait, Barents Observer
Sweden: Wild boar attack in suburb of Stockholm, Sweden, Radio Sweden
United States: Tense moment for Alaska polar bear patrol, Alaska Dispatch