Finland's Parliament to review security in wake of Canada shooting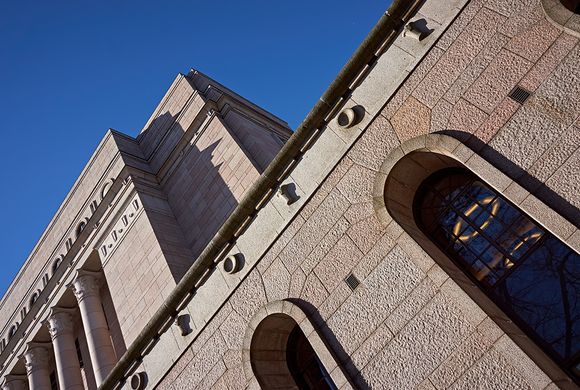 Finnish police have been asked to determine whether or not a shooting incident similar to one that occurred in Canada Wednesday could happen in Finland. Parliamentary chief of security Jukka Savola says, however that it's not possible to just waltz into the Finnish Parliament.
The Finnish Parliament has requested detailed information on the shooting incident that took place near the Canadian Parliament on Wednesday, according to parliamentary security director Jukka Savola. According to Savola the official review will begin as soon as public information on the incident becomes available.
On Wednesday an armed man shot and killed a soldier at a war monument in the capital Ottawa, before storming the Parliament. He was then shot by the Parliament's head of security. The gunman is now suspected to be a 32-year old Canadian national who converted to Islam and subsequently became radicalised.
"Of course we can put together a comprehensive picture of the situation in Finland and see whether or not such a situation is possible here. That will depend on what we need to prepare for and whether the events in Canada will have any impact on Finland," Savola said.
Savola noted that such a review would have to be conducted by Finnish police.
"In Finland the Security police and local police work together on these matters," he added.
"In connection with this case we're also interested in whether or not we are facing any special threat," the security chief said.
Suspects in Finland under surveillance
According to Canadian media the suspect in the shooting incident had been classified as a "high risk" case by local officials. His passport had been confiscated to prevent him from traveling overseas to fight.
"At least the preliminary information suggests that there is the same kind of movement, in other words, people who want to go abroad, as was apparently the case in this incident. Individuals who are in this category have been under surveillance and are being watched," Savola volunteered.
Canadian media reports also indicated that the gunman penetrated the Parliament building, something Savola said is less than credible.
"It sounds a bit odd that anyone could just run inside any parliament building," he observed.
"No one just runs into the Finnish Parliament. Everyone enters only after regulated security checks," Savola declared.
Related stories from around the North:
Canada:  Canada's northern leaders react to Ottawa attack, Eye on the Arctic
Finland:  Finland's president sees rising non-civilian traffic in Baltic, Yle News
Norway:  Pacific Akulas arrive in Severodvinsk, Russia, Barents Observer
Russia:  Russia says no need for NATO in Arctic, expands own military presence, Barents Observer
Sweden: Sweden military hunt in "new phase" with fewer vessels, Radio Sweden
United States:  Pentagon: Climate change is national security risk, Barents Observer