Record month for Norwegian seafood in spite of Russian sanctions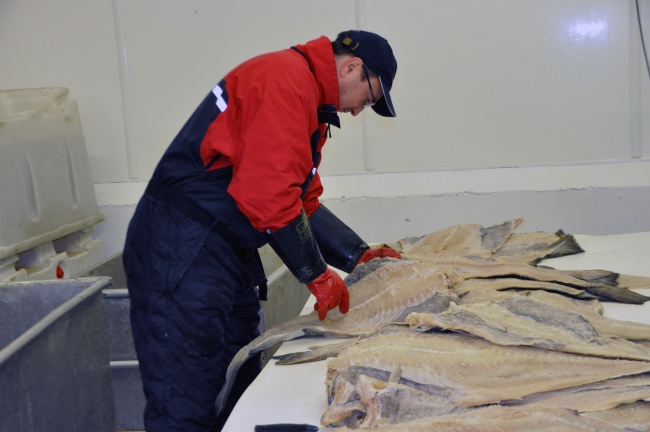 October was a record month for export of Norwegian seafood, in spite of the Russian ban on import. Export values so far this year stand at €6.5 billion.
Norwegian seafood exports totaled NOK 7.6 billion (€886 million) in October – an increase of NOK 393 million (€45.8 million), or 5 percent compared with October 2013. This is a monthly all-time high for Norwegian seafood, the Norwegian Seafood Council's website reads.
"Seafood exports continue to grow despite the loss of the Russian market and illustrate Norway's competitive advantage with seafood from both fisheries and aquaculture, says Christian Chramer, communications director of the Norwegian Seafood Council, to the council's website.
So far this year, the combined export values of Norwegian seafood stand at NOK 56 billion (€6.5 billion), an increase of NOK 7 billion. Or 14 percent, compared with the same period last year.
Impact on exports
On August 7 2014 Russia imposed a total ban on imports of seafood and other foodstuffs from Norway, US, EU and some other countries. This was expected to have a big impact on parts of Norwegian exports, but has so far mainly hit sales of herring and to a certain degree, salmon and trout.
After two years of continuous growth, salmon exports in October have flattened out.Norwegian salmon exports were worth NOK 4 billion (€466.3 million) in October. This is a decrease of NOK 130 million, or 3 per cent, compared with October 2013.
Also exports of trout have gone down 3 percent compared to 2013. Russia used to be Norway's largest market for trout, buying more than half of the total production. In October, Japan and Belarus were the largest markets for trout.
Russia used to be a huge market for Norwegian herring. Exports of herring fell by as much as NOK 185 million (€21 million) or 61 percent, compared to October 2013. Ukraine and Lithuania were the largest markets for this type of fish last month.
The main reason for the increase in seafood exports in October were record figures for sales of cod – both fresh, salted and clipfish, and mackerel.
Seafood enters Russian market through other countries
Norwegian seafood has started to enter the Russian market through other countries. According to head of the Russian Trade Delegation to Norway, Tamara Chernisheva, this is no problem for Russia.
"We know that the fish from Norway enters Russia through the Baltics and Belarus, so there is no reason for panic," she says to Dagens Næringsliv. "The sanctions are just politics, and should not ruin economic and trade relations between Russia and Norway."
Chernisheva says there are several ways that Norwegian seafood exports can avoid the import ban, most importantly through exporting to members of the Russian-dominated customs union that includes Belarus, Kazakhstan and Armenia.
Related stories from around the North:
Canada: Is a fishing boom in the Arctic a sure thing?, Eye on the Arctic
Finland:  Finland says those over 65-years-old can fish for free, Yle New
Norway: Norway-Russia fishery expedition finds abundance of cod, decline in other species, Barents Observer
Sweden:  Record numbers for Swedish wild salmon, Radio Sweden
United States: Unusual species in Alaska waters indicate parts of Pacific warming dramatically, Alaska Dispatch