Looking back at the 2010 Norway – Russia deal on Arctic borders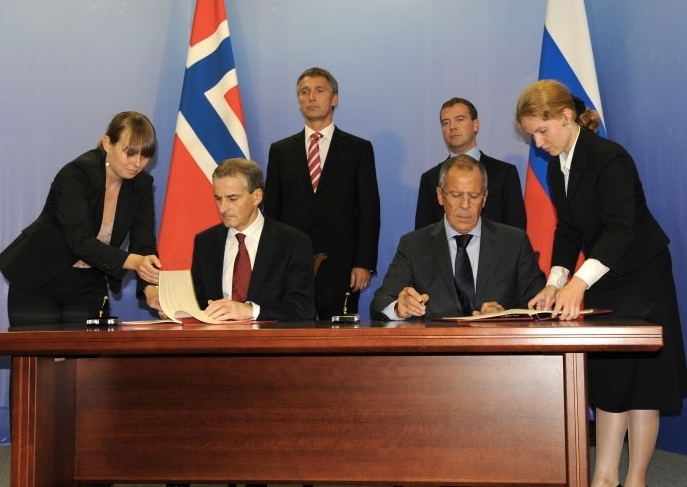 The border delimitation agreement for the Barents Sea demonstrated that Russia is playing according to the rules in the Arctic, former Norwegian foreign minister Jonas Gahr Støre says.
Today is five years since the two countries announced the deal.
On this day, five years ago, Norway and Russia signed the historical deal which prepared the ground for delimitation of 175,000 square kilometer of disputed Arctic waters.
"This was a very important treaty for many, many reasons", Støre says to BarentsObserver. "It demonstated that Norway and Russia have shared interest in following established procedures of international law between neighbors. It also demonstrated that Russia is playing according to the rules in the Arctic", the former minister says.
The announcement made in Oslo during the state visit of then Russian President Dmitry Medvedev came a major surprise to everyone. After 40 years of negotiations, the two countries presented the unique compromise which delimitates the disputed zone into two equally big parts.
The deal was presented by Jens Stoltenberg, then Norwegian PM and now NATO general secretary. "This is a historic day, especially for our populations in the north. I want to extend my thanks to our two Foreign Ministers and the negotiators for their extensive efforts, which have now proved successful, Stoltenberg said at the press conference.
Constructive partnership with Russia
The 27th April 2010 will remain a day of key importance in Norwegian-Russian relations. Jonas Gahr Støre was foreign minister in the period 2005-2012 and was instrumental in negotiating the deal.
Today, Støre heads the Norwegian Labour Party, and will run for the premiership in the next parliament elections.
According to Støre, the Barents border delimitation deal is "a very modern treaty, which is drawn along the most modern lines in international law"
He also argues that "Norway should take advantage of this constructive partnership" but at the same time "never be naive about what it means to be next to a big neighbor with stronger military muscles and and resources".
Commenting on today's worsening relations with Russia, Støre says he understands the decision of Prime Minister Erna Solberg not to go to Moscow to this year's 9th May parade. "I understand that she chooses not to go there, to attend the military parade, in a time when Russia has forces on the territory of another country in Europe," he underlines.
At the same time, he stresses that Norway must uphold a high level of contact with Russia.
"One troublesome issue today is the fact that there are very few arenas where Norwegian and Russian politicians can meet", Støre argues. "This is not good", he underlines. "We must continue contacts, we must be able to meet and talk together, both as politicians and experts", he says, adding that also security and military experts should be involved.
Related stories  from around the North:
Canada:  Arctic Council Ministerial – Winners and Losers, Blog by Heather Exner-Pirot
Denmark:  Nordics to step up security cooperation on perceived Russian threat, Yle News
Finland:  Survey – More than half of reservists in Finland pro-Nato, Yle News
Norway:  Peace and stability crucial for Arctic economy, Barents Observer
Russia: Majorities in Arctic nations favor cooperation with Russia, Barents Observer
Sweden:  Russia concerned by Finland, Sweden moves towards closer ties with NATO, Radio Sweden
United States:  Alaska stands to benefit as US takes reins of Arctic Council, Eye on the Arctic