Russian-Finnish relations significantly weakened by Ukraine crisis: Yle survey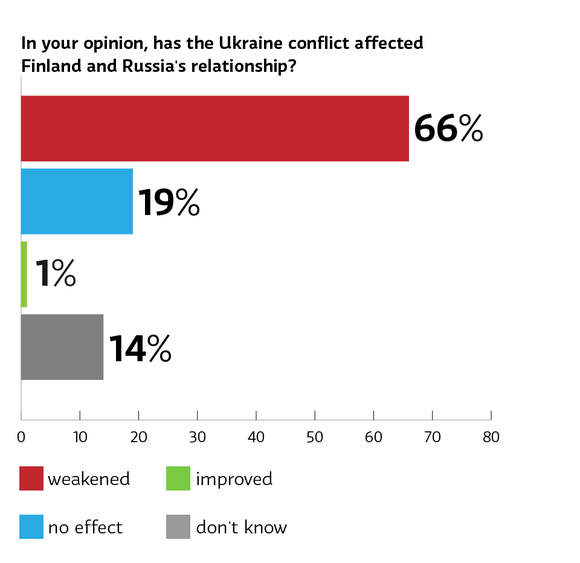 Sixty-six percent of respondents to a survey commissioned by Yle of Russian-speakers living in Finland felt the Ukraine conflict had negatively impacted on Russia-Finland relations, while only 21 percent said Finnish attitudes towards Russian-speakers in Finland had changed for the worse following the crisis.
"There has been a lot more discussion about the political situation, but usually in a very friendly way. I have not noticed more negative attitudes," says Mihail Ionin, who is studying at the Turku School of Economics.
When he was child, Ionin moved from Petroskoy Russia to Finland with his parents in 2000. Ionin says that he remembers some negative attitudes about Russians when he was a child. "Children can be very cruel, but otherwise I haven't really experienced any difficulties," says Ionin.
Just over 500 Russian-speakers living in Finland were interviewed in December by Taloustutkimus Research for a survey commissioned by Yle to gauge whether attitudes towards Russian-speakers in Finland have changed since the onset of the Ukraine crisis in 2014 and the subsequent heightened tensions between the West and Russia.
Of the respondents, 66 percent said they felt that Russia and Finland's relations had weakened owing to the Ukraine crisis. Only 19 percent said the crisis had not affected relations between the 2 countries.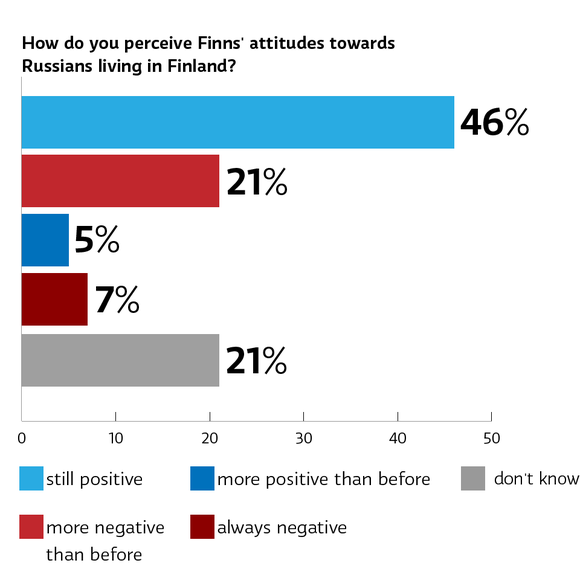 Attitude changes afoot?
Another survey question asked respondents whether Finns' attitudes towards Russian speakers living in Finland had changed. Whereas 46 percent of respondents said Finnish attitudes had remained positive, 21 percent felt they had become more negative in the current political climate.
"My friends have not treated me any differently,"  says Veronika Solovian, who moved from the Ukraine to Finland in 1997.
Solovian says that she has noticed that an increased interest and curiosity about Russian speakers in Finland has grown along with the conflict.
"At least now people know where Ukraine is and that it's not part of Russia; it has its own language and culture. For me, that's a positive change, perhaps the only positive one to come out of this terrible situation," she says.
Russian-speaker Natalia Vinogradova, who works for the Finnish National Opera, says she's noticed a new kind of caution, but does not think that attitudes towards Russian speakers in Finland have deteriorated.
"My friends don't think of me in any different way now compared with before (the crisis). Those people who don't know me very well tend to be more cautious. Sometimes they inquire about what kind of opinion I have about the Ukraine crisis and what I think of Putin's politics," she says.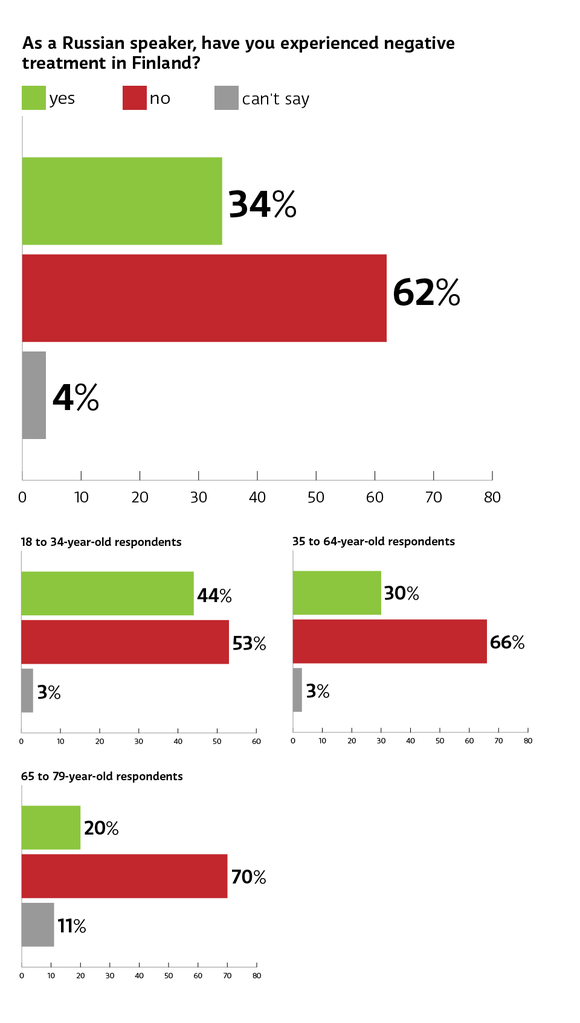 Close to one third of respondents said they had experienced negative attitudes in Finland because they were Russian speakers. The age group that reported the highest incidence of this were 18- to 34-year-olds at 44 percent.
Independent communications entrepreneur Petr Potchinchtchikov dismisses prejudiced comments slandering Russian speakers as often being made by socially isolated people. "If a drunk person yells at me I think that person's problems lie elsewhere — I don't think such comments are even worth discussing," he says.
"I am often asked questions such as what do Russian-speakers think about President Putin. You could just as well ask, What do Helsinki residents think about President Niinistö? Can you get a cohesive answer, one that illustrates that everyone thinks the same way?" asks Potchinchtchikov. "No, I don't think so," he says, answering his own question.
Related stories from around the North:
Canada:  Will Russia's actions in Ukraine affect relations in the Arctic Council?, Eye on the Arctic
Finland: Rouble collapse hits Finland, Forex stops buying Russian currency, Yle News
Iceland:  From Arctic Circle 2013-2014, a big drop in the price of oil, Blog by Mia Bennett
Norway:  Norway's krone follows oil-price downhill, Barents Observer
Russia:  Ruble crash will have a huge negative impact on cross-border trade", Barents Observer
United States:  Oil price collapse prompts agency to lower Alaska credit outlook, Alaska Dispatch