Alaska administration wants better relationship with tribal governments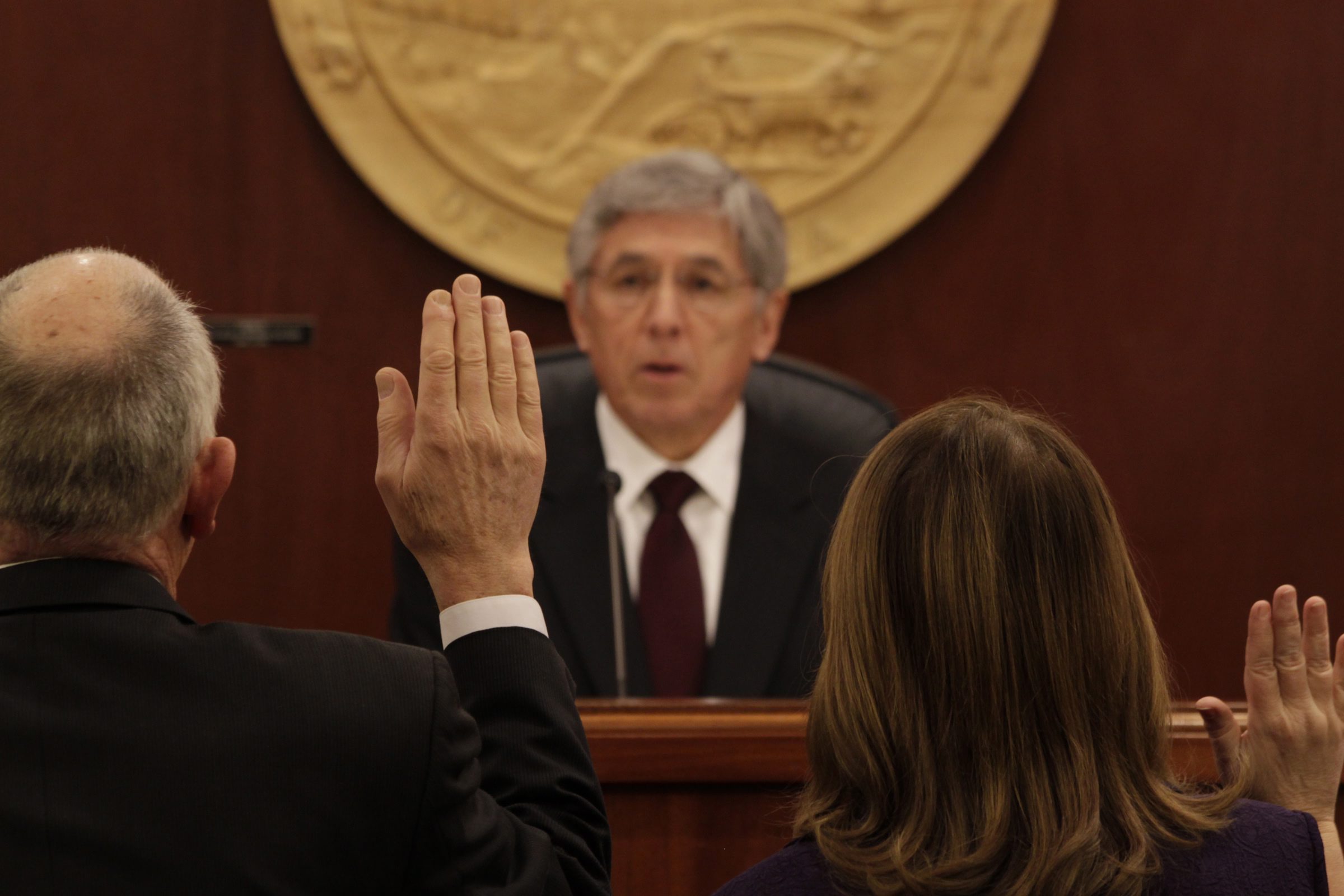 JUNEAU — The Walker administration intends to open a new era of relations between tribal and other governments that will have them working together to improve Alaskans' lives, said Lt. Gov. Byron Mallott, the first Alaska Native to hold such a statewide office.
Mallott told a packed Native Issues Forum in Juneau on Thursday that they will be doing more than working together, in some cases joining to provide better services.
"We're going to embed relationships with tribal governments in everything we do," he said.
Mallott is a former co-chair of the Alaska Federation of Natives and leader of Sealaska Corp., the regional Alaska Native corporation for Southeast.
The announcement was praised by Richard Peterson, president of the Central Council of Tlingit and Haida Indians of Alaska, one of the state's federally recognized tribal governments.
"We've had our frustrations with the state of Alaska," he said.
New stance welcomed by tribal leaders
While no relationship will ever be entirely conflict-free, Peterson acknowledged, he welcomed the new stance. When meeting with new Gov. Bill Walker and Mallott, Peterson said, it was the first time he'd ever met with such leaders when they brought up tribal sovereignty before he did.
Mallott on Thursday provided a broad overview but few specifics. But he told the heavily Native crowd that he had confidence in Walker to do the right things.
When he was the Democratic candidate for governor running against Walker, Mallott said he'd listened intently to Walker's views, often looking for "code words" that some who oppose tribal sovereignty use. He never heard any.
That led him to have confidence in Walker as governor and that interests of all Alaskans would be addressed in a Walker administration, enabling him to switch to seeking the lieutenant governor position on Walker's independent campaign instead.
By the end of Walker's four-year term as governor, Mallott said, he expects the new relationships to be there to stay.
"At the end of our administration, if there are those who would seek to undo what we've done, it would take at least a generation to undo it," Mallott said.
Mallott and administration spokesperson Grace Jang said that by next week, or perhaps sooner, a rural policy adviser will be announced.
Jang said that titles and duties are still being fleshed out but the governor's team will also include Paulette Schuerch as a rural policy analyst in Anchorage, Craig Fleener as Arctic policy adviser and Barbara Blake, a special assistant in Juneau, focusing on a range of related issues.
Related stories from around the North:
Canada: Arctic Council – The evolving role of regions in Arctic governance, Blog by Heather Exner-Pirot
Finland: Finnish Sámi join UN Forum on indigenous issues, Yle News
Greenland: What the EU seal ban has meant for Inuit communities in the Arctic, Eye on the Arctic
Iceland: Iceland conference draws on hopes, concerns for changing Arctic, Alaska Dispatch
Norway: Alarming situation for indigenous peoples in Russia, Barents Observer
Russia: Sami leader harassed by police on way to UN conferance, Barents Observer
Sweden: UN report critical of Sweden's treatment of the Sami, Radio Sweden
United States:  Alaska bill to be signed recognizing indigenous languages as official state languages, Alaska Dispatch News